News
Beachcomber
Every issue we bring you the news, views, people, products and places from all around the Pacific.
June 13, 2018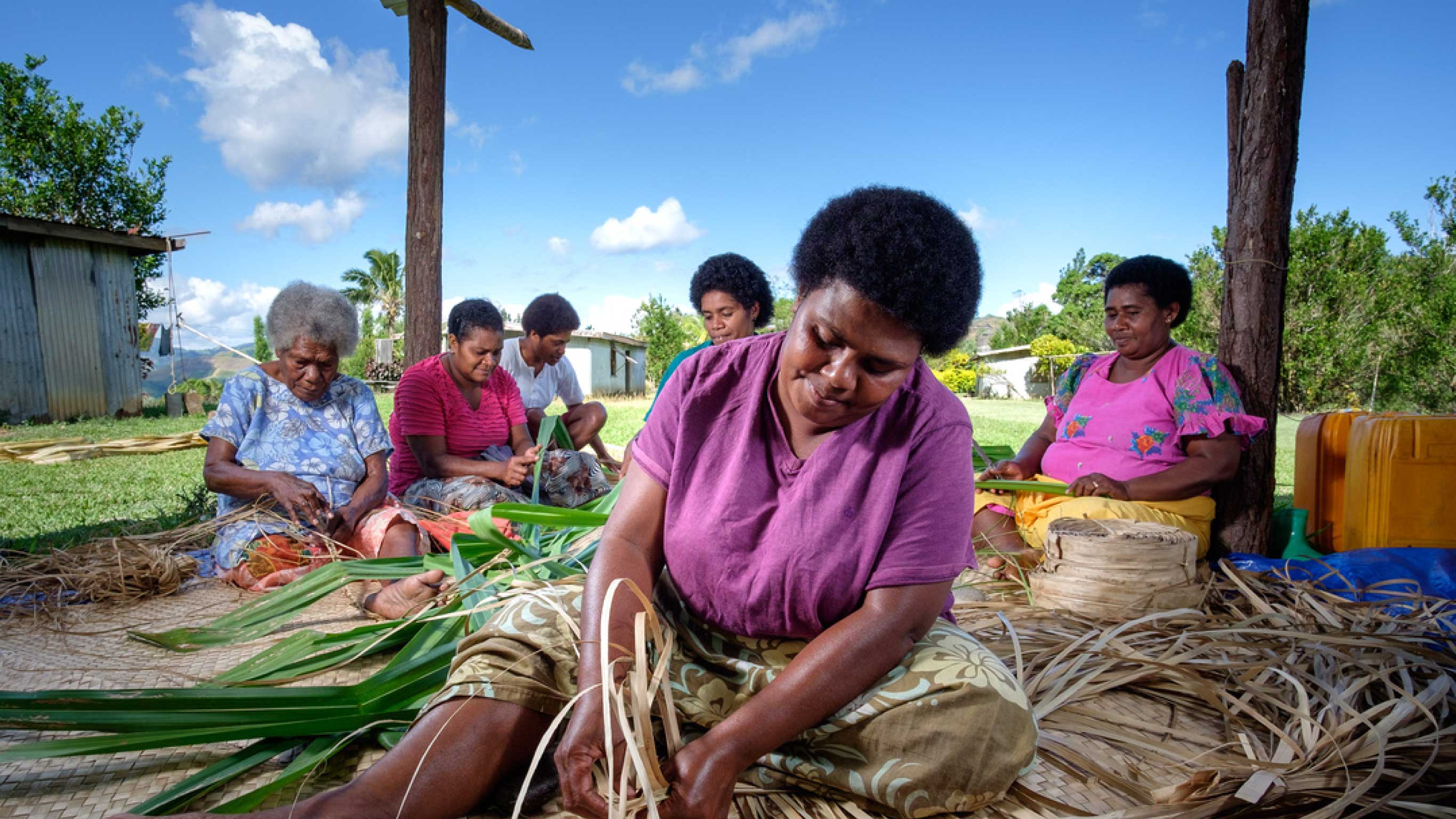 Pacific Island Living
June 13, 2018
Market Masterpieces
The recently renovated Port Vila harbour front is home to a wonderful new building showcasing Vanuatu's indigenous arts and crafts. As the signs within the open-sided building say 'Buying local supports our communities'. By buying your souvenirs and mementos of Vanuatu here you are directly giving back to local artisans, their families and communities in return for getting authentic local products.
Among the goods on display are T-shirts with some amusing messages for visitors, try 'Proud Vanuatu Citizen' back home or 'Proud to be a Ni-Van'. There is an enormous array of beautifully crafted merchandise with explanations as to its provenance. One of the more unusual offerings is 'sea glass' jewellery which, as the notice explains, is made from abandoned Coca Cola bottles left behind by US troops after World War II. Having been 'polished' by volcanic sands for the past 70 years the glass is now uniquely shaped into small but exquisite pieces from which the artisans have created earings and pendants.
There is a big range of wooden carvings, local Tanna coffee, woven baskets and engraved animal horns. There's also a stall selling contemporary art prints in both limited and open editions. The AWIS Artis Blong Vanuatu, who hail from the island of Mataso, have created a vibrant stylish range of prints of international quality to suit any decor, and they are very reasonably priced. Tip: the pig is a valued commodity throughout Vanutau with its tusks prized as items of jewellery. If you'd like the unadorned original pendant then it can be bought here for around AU$20. If you'd prefer the version with superb gold and silver embellishment then pop into Vanuatu Bijouterie on the main street for a fabulous range of local upmarket bling. Note: There are signs which give guidence as to what items are allowed to be taken back to Australia and New Zealand so you can ensure your souvenir won't be impounded by customs on you return home.
Shareholdings
Maybe you're an Australian expat who likes to make regular return visits or possibly just looking for an affordable investment – a new real estate initiative may be just what you're looking for. Kohab is dedicated to finding people who are willing to share ownership of a home or a holiday house or possibly an investment property. From the beautiful Barrier Reef and tranquil Hamilton Island, to the Snowy Mountains, to the wine regions of Margaret River, there are idyllic destinations right on the doorstep thanks to co-ownership. By allowing two or more parties to purchase a property together, co-ownership enables potential buyers to co-own holiday homes in their chosen dream areas. See www.kohab.com for details.
Rie Beyond the Reef
Want to buy a souvenir in Fiji but ensure the proceeds go to local villages? Then look for the Rise Beyond the Reef branding and their offering of authentic village made products. Products can be found at: Sofitel, Denarau, Nadi * Pineapple Boutique, Sheraton Denarau, Nadi * Mercure Hotel * Novotel Nadi * Vuda Marina General Store, Lautoka * Fiji Museum, Suva.
Trash to flash
Here's a neat idea, 4Ocean claims to be a global movement which is actively removing 'trash from our oceans and coastlines while inspiring individuals to work together for cleaner oceans, one pound at a time'. The way to help is to buy one of their stylish, adjustable unisex bracelets which are made from recycled materials. By spending US$20 on the item of jewellery you wil be rewarded by the organisation removing a pound of waste from our waterways. Not a bad deal if you're among the many who are concerned about the extraordinary amount of rubbish which is polluting our oceans. The organisations appears to run serial fundraising for various causes, their last being 4CoralReefs which raised money for the restoration of reefs, and they are about to embark on their next effort which is Earth Day. See4ocean.com