Play
Crocs, Caves & Clown Fish: Best ever cave dive
For Deborah Dickson-Smith the Solomon Islands show off their wild side to divers, from Munda to the Florida and Russell Islands making for an unforgettable holiday adventure she'll be talking about for years to come.
December 6, 2016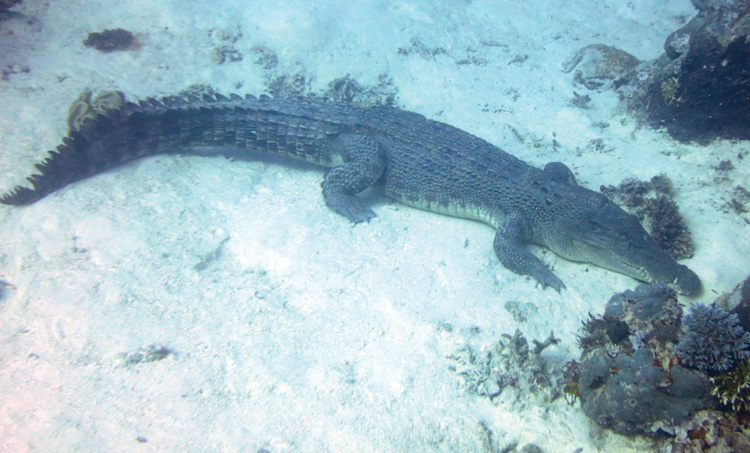 Pacific Island Living
December 6, 2016
For Deborah Dickson-Smith the Solomon Islands show off their wild side to divers, from Munda to the Florida and Russell Islands making for an unforgettable holiday adventure she'll be talking about for years to come.
As we swim through the shallows of a dive site somewhere in the remote Russell Islands, one of our dive guides suddenly stops and points excitedly. I look that way, expecting perhaps to see a reef shark or maybe a ray and instead I see a rather large crocodile.
Looking back, I'm still not sure what my first reaction was, either fear or excitement. Our guides don't seem terribly worried about the close proximity of the two-metre-long crocodile, so I decide I must be safe. As I turn to take a photo, however, one of the guides takes hold of my arm and motions not to go any closer.
I manage to take a photo before the croc takes off, no doubt disturbed by a large group of divers blowing bubbles. I watch the powerful tail swish back and forth as it propels the croc's considerable bulk through the water, and shudder.
This is probably the biggest adventure we encounter in our ten-day experience diving in Solomon Islands but it's not the only one. We've explored beautiful caverns, tunnels and slots that open on to stunning reef walls, wreck sites littered with unexploded WWII Bombs, and hooked ourselves onto reef points as strong currents swept by us while we watched large schools of rays and reef sharks swim by.
There are several dive operations in Solomon Islands, from liveaboards to shore dive opeations, in Honiara, Gizo and Munda. It's here that we head to first. Dive Munda manager Belinda Botha is keen to show us the best of Munda's underwater world and over the three days we are here, she takes us far and wide.
Heading north on our first day, we visit a couple of beautiful dive sites; Mbigo Mbigo and Alice in Wonderland (aptly named). We glide through impossibly clear water around and over coral bommies, as large schools of barracuda and unicorn fish motor past us. It's hard to decide whether to look out into the blue to watch the fish, or into the reef at the multi-coloured soft and hard corals and delicate little creatures such as nudibranchs, anemone fish and Christmas tree worms.
The next day we take off in the opposite direction across the lagoon for a couple of adventures. The first dive site, for some reason called Aussie Point, drops down dramatically for hundreds of metres and comes to a sharp point, not unlike the bow of a ship. Hammerhead sharks and large schools of bump head parrot fish are often spotted, but our dive guide, Andrew isn't making any promises.
"They're definitely out there, but whether or not they feel like checking us out is another matter."
Despite this disclaimer a hammerhead circles towards us within 10 minutes of hitting the water and glides past us gracefully. Another follows close behind and it's not long before we spot a few bump head parrot fish before heading to shallower waters to look for anemone fish and other slightly smaller critters.
The next dive on today's itinerary is a different adventure altogether. After lunching on a small island, shallow turquoise lagoon on one side and a rocky beach on the other, we hike a few metres into the thick undergrowth. Here we find a small grotto, roughly two metres in diameter. We jump in feet first and lower ourselves one by one down a narrow tunnel, which eventually opens up into a large underwater cavern.
It's pitch black and we have to be careful not to kick up the fine silt as we make our way slowly through a small tunnel that descends to a depth of 30 metres before opening up onto the reef wall. The blue light at the opening silhouettes giant Gorgonian fans and we swim out and along a steep wall, covered in fans, feather stars and cascading corals of all shapes and sizes. I'm making a call: the best cave-dive ever.
After our Munda adventures we headed back to Honiara to jump on the MV Taka, looking for a few adventures in the Florida and Russell Islands. And boy do they deliver. Over the next five days, the adventures just keep getting better and better.
On our first day, we explore the wrecks and general WWII refuse at Ghavutu before exploring a site, somewhat comically named Garbage Patch. There are several wrecks here, some WWII casualties, a few the result of neglect and unfortunate maritime accidents. There's also a large sandy area littered with unexploded WWII bombs. Our dive guides are particularly worried about this area, as several guests in the past have taken it upon themselves to tap these bombs to 'test' them (why on Earth?)
Several incredible dive sites follow including Mberseri Point and Tanavula Point where we see reef sharks, eagle rays, devil rays and large schools of barracuda swim by as we hook ourselves onto the reef wall so we can watch the spectacle without fighting the current.
While we sleep, the ship motors on to the Russell Islands, where we get to explore an incredible selection of swim-throughs, some taking us inland to surface in freshwater ponds and inland caves before leading out to beautiful coral walls and deeper caverns.
Mirror Pond is a highlight. The dive starts in a shallow open cavern, and we're alerted beforehand that there is a resident barracuda at the entrance, and possibly crocs in the pond. The barracuda is indeed waiting for us, so we check him out while our dive guide swims ahead into the pond to check for crocs – if they're small we can follow him in (two at a time) but if there's a big croc there, it's a no-go. No crocs at all today but the pond is incredibly pretty anyway. We each have a look before swimming along the reef wall a short way to explore a relative maze of caverns and swim-throughs.
The pond is followed by Leru Cut, a tall and narrow cut through the limestone that again leads inland and opens up to overhanging greenery and vines, and after this, Bat Cave, a similar cavern leading inland to a cave populated by a colony of bats.
We're warned not to take our regs out when we surface for fear of guano. While this cavern, like the others, is stunning, the highlight for me is the tiny pygmy seahorse our dive guide John Wayne (yes, his real name) finds for us just outside.
It takes a special kind of eyesight to spot a creature the size of a fingernail that is the same colour and texture as the sea fan it lives on. I'm always so grateful to local guides for having better eyesight and critter-spotting abilities than I have. Apparently these tiny creatures share DNA with the pink sea fans they live on – nature really is an amazing thing.
However, all of these dives are the lead up to the most exciting part of our week on the MV Taka; The Funnel. A steep wall covered in colourful soft corals and Gorgonian fans, which opens up onto a shallow coral garden, where we have two incredible encounters.
The first, a large saltwater crocodile, a truly unique experience. The second, equally unique but in a completely different way, a family of clownfish living in a bright blue anemone. It's one of the most beautiful things I've ever laid eyes on.
The combination of adventure and natural beauty has made this diving holiday an unforgettable experience. I'm going to be talking about it for some time to come.
More information: diveplanit.com, visitsolomons.com.sb
The writer was a guest of Solomon Islands Dive Expeditions and the Solomon Islands Visitor Bureau.