Play
Cruising into Wedded Bliss
Something a bit different in Fiji is getting married onboard a luxury cruiser, and the most luxurious of all is Bel'Mare.
August 17, 2017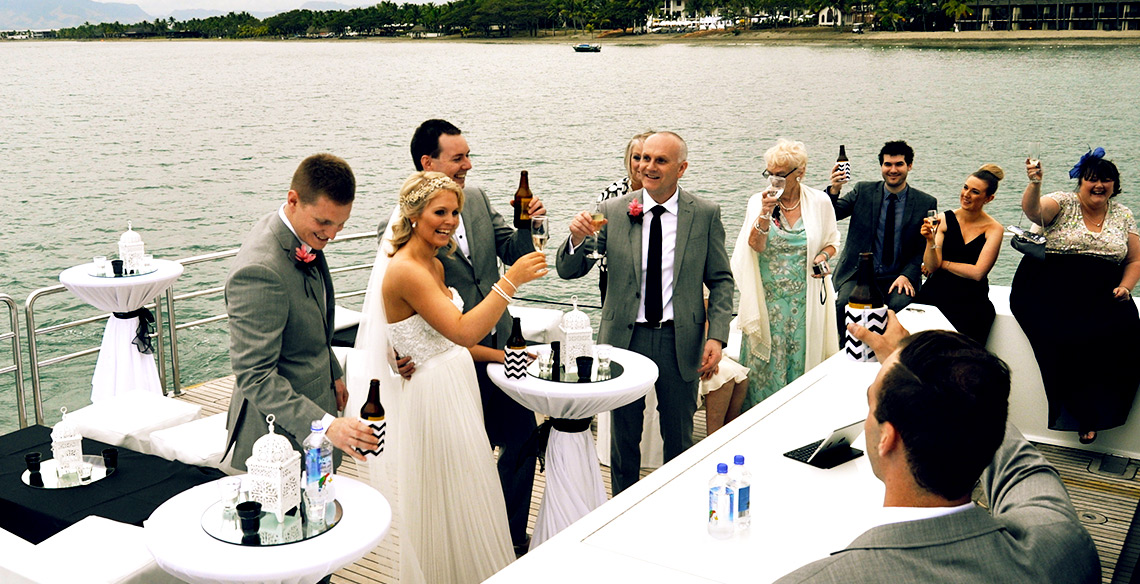 Pacific Island Living
August 17, 2017
Welcome on board!
Something a bit different in Fiji is getting married onboard a luxury cruiser, and the most luxurious of all is Bel'Mare.
Bel'mare is an 86ft catamaran, staffed by an experienced, professional Fijian crew. And while you can exchange your 'i do's' on board, you can also charter the Bel'Mare for the perfect hens or stags day out.
Bel'Mare is part of the Adrenalin fleet and while a wedding is a special occasion on board, the luxury cruiser is also available to visitors to Fiji.
Regular day trips around the Mamanucas include canapés and drinks, lunch and afternoon tea as well as activities including jet skis and standup paddle boards all for just FJ$299 per person.
This offers excellent value for money, a day trip on Bel'Mare really is a five-in-one tour, with pleasure cruising, sightseeing, snorkelling, lunch and watersports.
The Bel'Mare can take up to 50 guests, but there is so much room on board, I can't imagine feeling cramped.
With spacious 8.35m decks (upper and lower), a skylounge, saloon, guest rooms, master stateroom and five bathrooms, space is plentiful and it's luxury all the way.
The Bel'Mare day trip to the Mamanucas departs from Port Denarau at 9.00 am. The Captain and crew personally welcome each guest on board and follow with an entertaining but informative safety demonstration.
The crew ensure all guests are well looked after, even those on their own, by calling everyone by name, getting to know their preferred style of travel and what sorts of things they are hoping to get out of the day.
For me, I was invited in to the pilothouse where I got to see the captain manoeuvre this rather large boat safely and easily. It was then I thought, and he agreed, he had the best job in the world.
"Especially on days like today – look at this water, look at the sky, have you ever seen such blue?"
I hadn't.
Leaving Port Denarau several other boats were taking off for the day's adventures and I noted our guests seemed rather proud to be on board Bel'Mare. A Kiwi tourist nailed it in his best Australian accent "Livin' the dream we are."
The Bel'Mare cruised at 13 knots passing by several island resorts including Castaway, Plantation Island, Tokiriki, Malolo and Likuliku. For those staying on Denarau, it was great to see other styles of accommodation.
Our first stop was at a sand bank off Plantation Island, a warm stretch of white sand between the resort and Cloud Break where the Fiji International Surfing competition is held.
Here you could snorkel, feed fish, paddleboard or just sunbake on the sand bank. The water was crystal clear and the fish plentiful.
Bel'Mare's crew was in the water with us, pointing out fish species and keeping a watchful eye on the younger (and older) guests.
Next we enjoyed a sumptuous buffet lunch and Champagne, local and international beers and soft drinks. It's an open bar on board Bel'Mare and there is no skimping on the food.
Later in the afternoon we moored off Malolo island for more swimming and snorkeling, jet skiing and relaxing in the sun. By the time we cruised back in to Denarau strangers had become friends, bonding over what is undoubtedly the best day trip from Denarau all had experienced.
Book directly with Adrenalin or your hotel tour desk.