Dine
Denarau Dining Guide: Five Star to Flamboyant
Tatyana Leonov and Tiffany Carroll taste test the best on offer in Fiji's popular Denarau area. Seafood to steak, sophisticated to simple.
May 18, 2016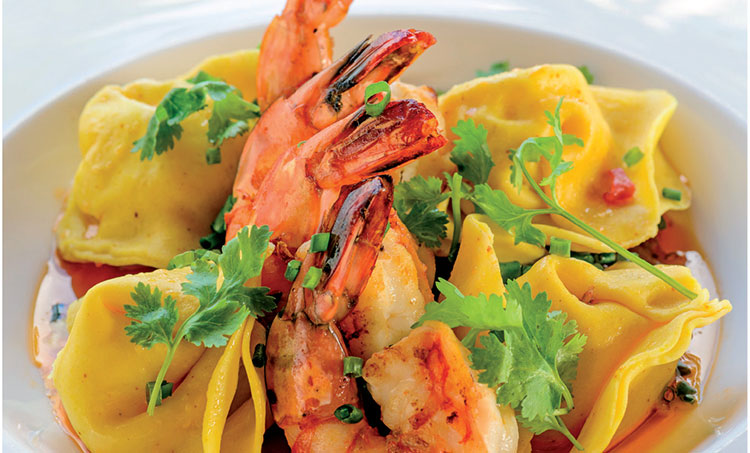 Pacific Island Living
May 18, 2016
Tatyana Leonov and Tiffany Carroll taste test the best on offer in Fiji's popular Denarau area. Seafood to steak, sophisticated to simple.

Fiji's gastronomy scene has matured as of late and visitors have an excess of local and international foods to choose from. Less than 10 kilometres from Nadi, Denarau Island is home to a cornucopia of resorts, most with fabulous restaurants that offer the ultimate in dining – lavish fine diners, elegant waterfront restaurants and casual poolside hangouts – it's all there. Local chefs are getting creative with cooking styles, sometimes fusing modern techniques with traditional cooking methods, and international chefs are bringing their own experiences and adding it to the mix.
Flying Fish
At Sheraton Fiji Resort's (sheratonfiji.com) al fresco waterfront Flying Fish restaurant (Peter Kurivita's signature brand) Polish newcomer Pawel Klodowski is wowing customers with polished, tantalising dishes every night.
Fijian seafood is prominently featured on the menu and à la carte dining is always popular, however now there's a new concept for patrons wanting something a little bit different. Book for a Chef's Table dinner and get up close and personal with the chefs. Private or communal, the idea is that guests watch the chefs do their meticulous work and indulge in both a degustation and show.
V Restaurant
Just a stone's throw away French chef Jean-Marc Ruzzene presents diners with a sophisticated French-inspired menu at the suave V Restaurant at So tel Fiji Resort and Spa (so tel. com/Fiji-Denarau). Unlike the perennially busy Salt Restaurant which overlooks the gigantic family pool and the softly lapping waves of the calm see, step into V Restaurant and enter another realm, one where thatched roofs and palm fronds don't exist, instead an elegant interior scheme of browns, crèmes and beiges dominates the elegant colour palette. Here everything is beautifully presented (think crisp table linen and beautiful menus), service always comes with a smile, and dishes whizz out looking like artworks. An out-of-this world experience … in the tourist centre of Fiji.
Rhum Ba
The Yacht Club at Port Denarau went through a major upgrade last year culminating in the opening of the Rhum Ba.
Quality finishings, unmatched views from the top floor function room and the best part of all – over 150 rums on offer set a new standard for sophisticated eating and drinking at the Port.
Even if you're not a rum drinker (and what would-be sailor can claim not to be?) the cocktail list is sophisticated and interesting.
It's not all about rum at the Rhum Ba, with late breakfast, lunch and dinner on offer too, there's plenty to enjoy.
Choices include local and imported seafood (oysters are the house specialty), tender beef cuts, spiced chicken, lamb, pasta and salads.
The menu is all about what is fresh and what is best and the function room upstairs caters for more than 200 people.
Perfect for parties, launch functions, weddings, you name it.
We spent a couple of afternoons at the Rhum Ba (which led to a couple of evenings too) – the marina is full of activity, the people and boat watching, plus the relaxed atmosphere and friendly staff at the Rhum Ba made it near impossible to leave.
Cardo's
The thing that's great about Port Denarau is after the cruise ships have departed, the shops have shut and the sun begins to set, the locals come out to play.
The best known local is Richard (Cardo) Slatter, owner of Cardo's Steakhouse. This fun, fiesty and flamboyant (well, perhaps well dressed is a better description) Fijian is the life and love of Cardo's. A sharp wit and just as sharp a tongue, Cardo has been doing what he does best – restaurants and bars for longer than he cares to admit or remember.
Cardo's is famous in Fiji for its steaks and sh served on a sizzling hot plate. Fresh seafood, wood- red pizzas, Chinese wok creations, cocktails, delicious desserts and daily specials.
The Fijiian staff is fun and attentive, usually under the watchful eye of Cardo. The chefs select only the best prime New Zealand steaks, and have been doing it so well for so many years, the Kiwi meat exporters come to them daring to offer nothing but the very best.
Cardo's is laid back and casual; sometimes with a live band, sometimes sport on the big screen. It's the sort of place you want to hang out with mates, or join a table of expats and locals. It is a favourite of Fiji Island Living's and we highly recommend it.
Chantara at Radisson
You can smell it the moment you walk in to the Radisson Blu Resort. Thai spices and fresh herbs, coriander, chilli, sweet basil.
I love Thai food, but authentic Thai – not the watered down version we tend to find outside of Asia – so was pleasantly surprised to find Chantara is exactly that – authentic.
Chef Mickey had just returned from Thailand when we dined and he was excited to be back to share his new hand-picked spices, however he said many of his ingredients can be sourced at the local market.
"They (the market sellers) don't know what some of the stuff is used for, but I have been very surprised to find things such as lemongrass, galangal and small chillies here in Fiji," he said.
We had the Thod Mun Khaw Pood (corn cookies) followed by Kaeng khiew (green curry) and Massaman beef – all were delicious and bursting with flavour. Wines are well matched (and well priced for Fiji) and the service was possibly the best we have experienced in Denarau.
Bookings essential for this popular restaurant.