Stay
Best things to do in Tanna, Vanuatu
Tiffany Carroll returns to Tanna and finds a completely intact culture and a life changing experience for her kids. Staying at White Grass Ocean Resort, they discover the best of both worlds.
August 28, 2019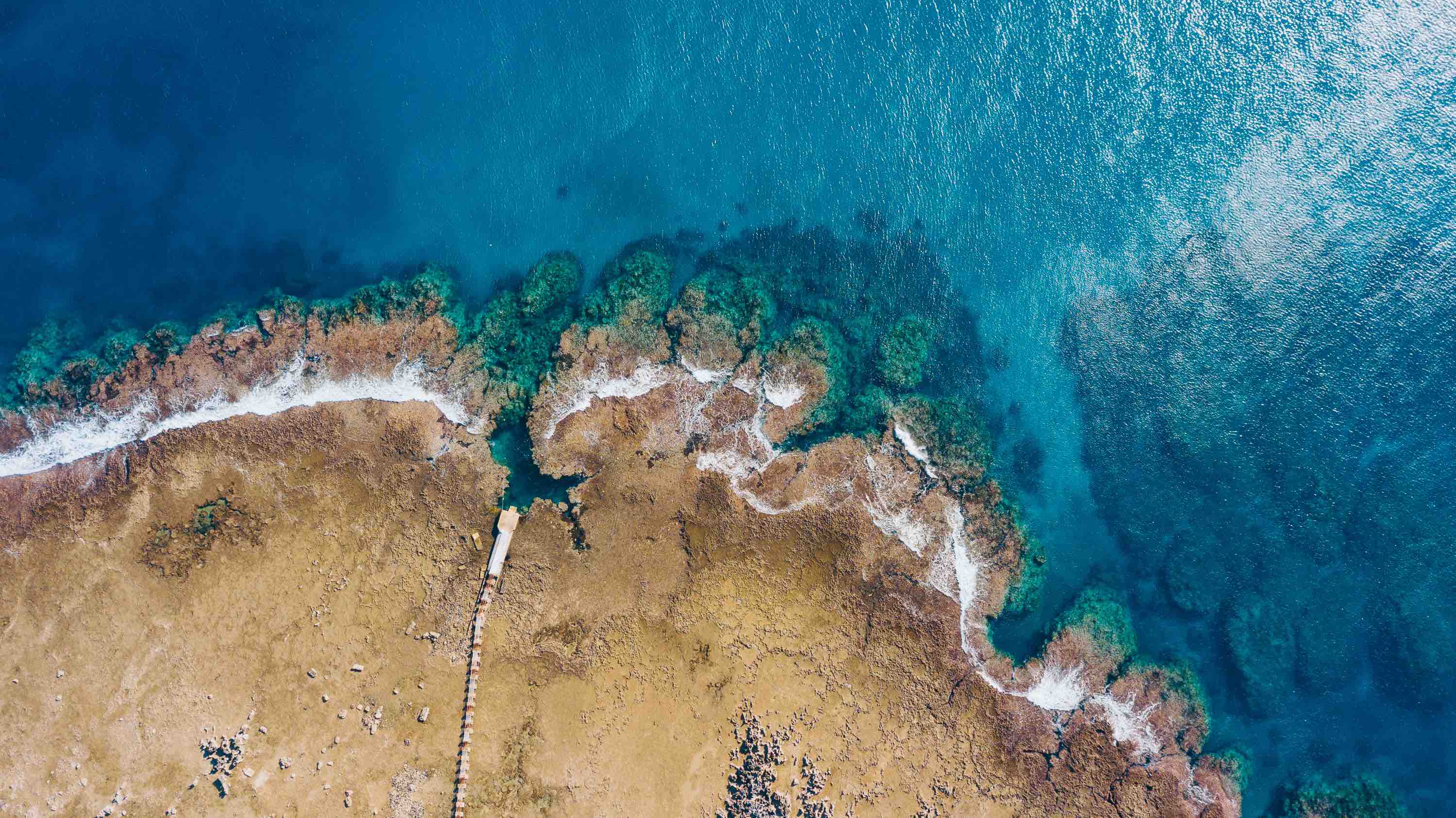 Rebecca Murphy
August 28, 2019
Port Vila's domestic airport terminal is a busy place, under renovation for what seems like 20 years to the locals, seating is limited, the bathrooms don't always work and the check in for flights seems to take forever. But there's energy about the place, people are excited and in typical Vanuatu style, no one is in a rush.
Pilots walk through the terminal and out through security to the busy apron. A number of small aircraft are waiting to board or disembark and being a nervous flyer, I'm grateful to be flying Air Vanuatu with their comparatively luxurious and large ATR72 to Tanna.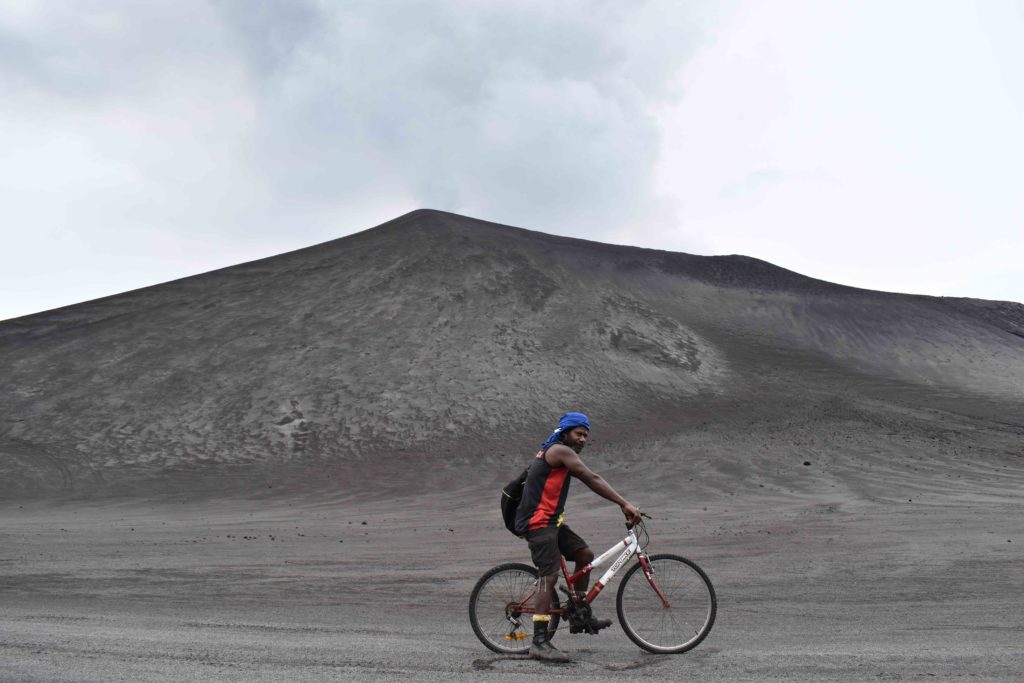 Lonely Planet says if you only visit one outer island in Vanuatu, it should be Tanna. They list the reasons why, starting with its famed accessible active volcano, Mount Yasur and go on to talk about village markets and cults who worship American military servicemen and even Prince Philip.
It's not my first trip to Tanna, but I'm returning with some less than intrepid travelers including three kids aged between seven and 15. The kids of course are excited to see the volcano, but I know there is more to Tanna than that.
It's raining when we land at White Grass airport and we're rushed in to a waiting vehicle – our destination is straight over the mountains to the volcano. Sunset and sunrise are the times to see Yasur in all her beauty and with kids in tow, there's no way we're getting up at four am for the sunrise show.
The 34km trip takes a good hour over some pretty rough roads. A new section has been sealed, however, so the journey time is much less than my first visit a few years ago.
The excitement felt at the airport is tenfold as we drive across some of the most beautiful terrain in all of Vanuatu's 83 islands. Village roads are cut out through jungles and every man, woman and child we pass waves excitedly at us.
Our kids wave back from the back of the truk (ute); they're wet as shags on rocks from the non-stop rain and couldn't be happier. There is room inside the vehicle, but for city kids, where's the fun in that?
Eventually we arrive at the brand new Entani volcano visitor reception center. Three other truks are ready to head up the mountain so we quickly sign in and jump on the back of one of them. The rain is relentless and I fear Yasur wont put much of a show on tonight.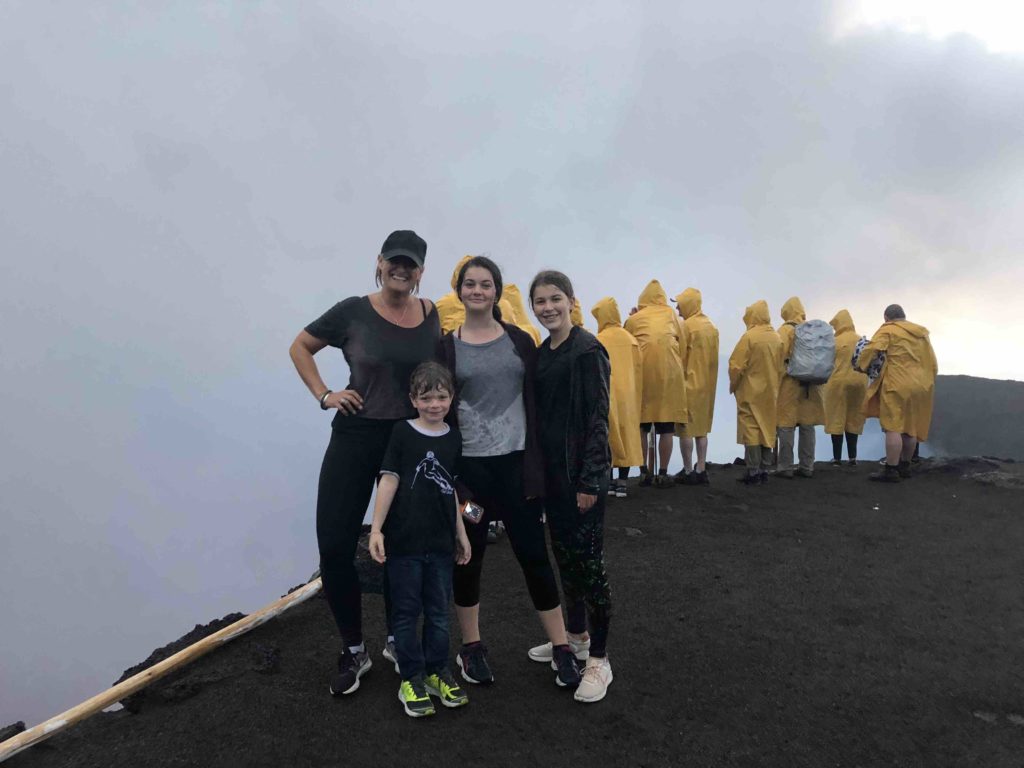 Twenty minutes later, we're standing on top of Yasur, staring in to the crater. It's wet, windy, cold and cloudy but that doesn't bother a single person there. This is a once in a lifetime event for most – standing on the crater of an active volcano and watching Mother Nature in all her fabulous fury.
After 15 minutes or so, we're getting quite cold and decide to head down to the car park. And just like that, the weather clears and all of a sudden the fireworks begin. The kids run back up to the crater and awe and sigh in amazement. Bomb after bomb of red-hot molten rock is thrown in to the sky and no one wants to leave.
The local guides are patient; they've seen it all before, of course. Tourists transfixed by the show, in no hurry to leave. Eventually we do and the trip home is in relative silence. We are simply lost for words.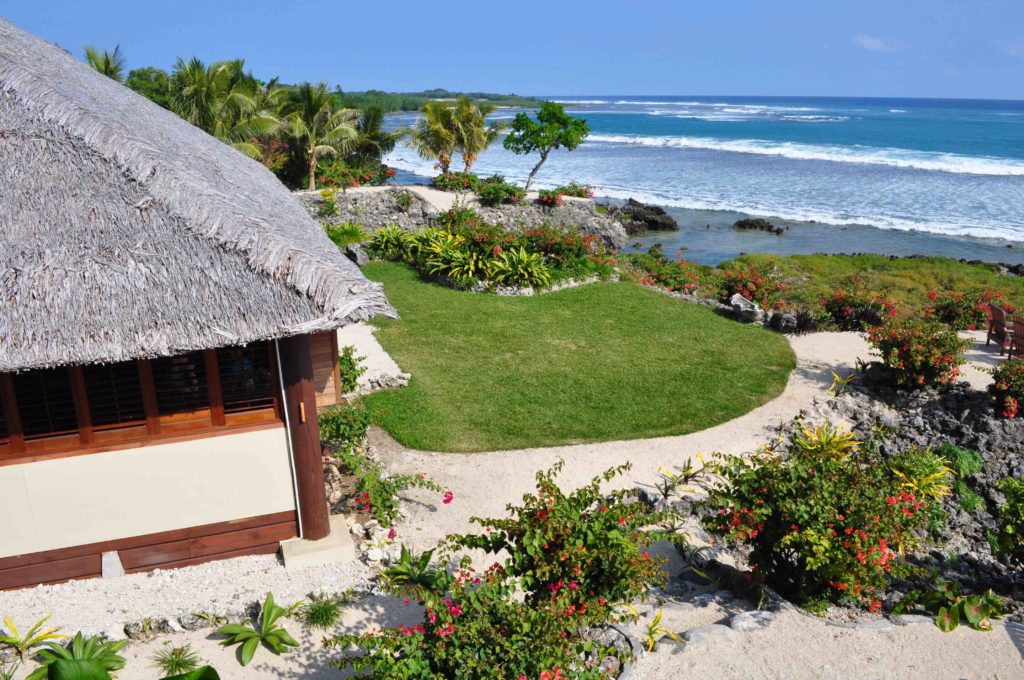 Arriving at White Grass Ocean Resort, our accommodation for the weekend is dream-like. An oasis of green gardens, brightly coloured bougainvillea flowers and a moonlit view of the Pacific Ocean. We're staying in side-by-side bures, spacious and airy, there are no ceilings, rather exposed local hardwood beams, mosquito screens protect the bures. The walls are adorned with artwork from local artists, including work by the late Diana Tam. Tropical soft furnishing, a well-appointed open ensuite and cool ceramic tiling, the bures offer everything you need to relax.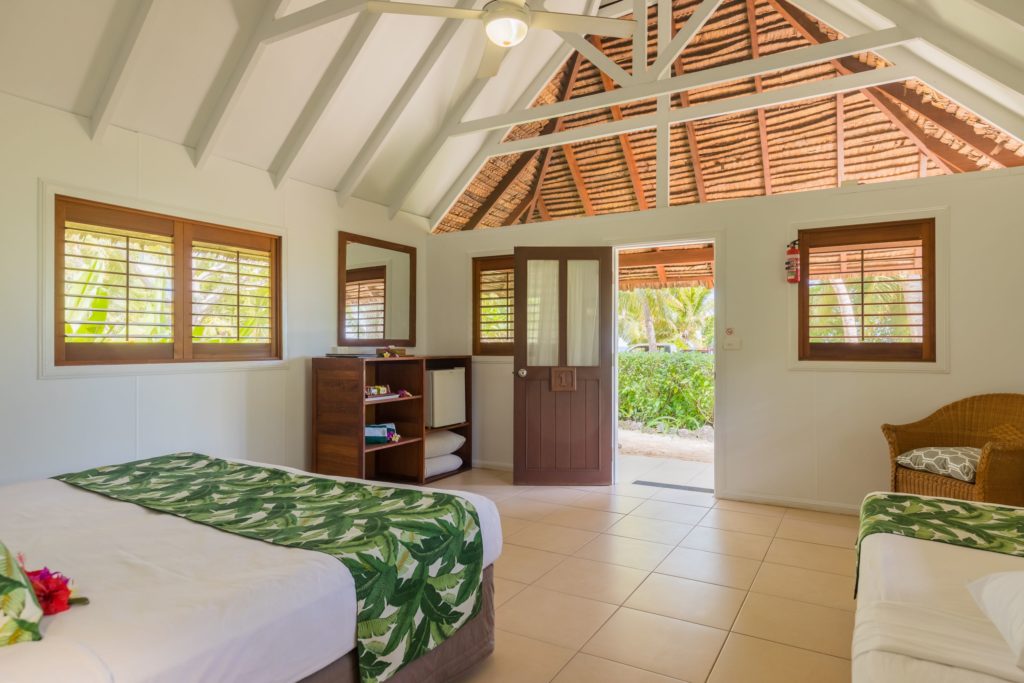 A recent addition to White Grass is the two bedroom, two ensuite, plantation-style villas which also include a kitchenette, dining area, lounge and large verandahs. Designed with every creature comfort for a family of up to four, the new villas feature furniture crafted from local hardwood, designer soft furnishings, ceiling fans, ceramic tile floors, laundry facilities, Wi-Fi and more.
White Grass Ocean Resort & Spa is home to the only PADI certified diving operation, Volcano Island Divers, on Tanna island. Local dive spots are renowned for their coral and lava formations, abundant marine life (including caverns, turtles, whales and dugong) and exceptional water quality.
Within the resort there is direct access to reef edge snorkeling and inner reef pools. The kids are up early the next day exploring the shallow reef and excitedly return with tales of huge fish, starfish and crabs. A swimming pool, restaurant, pitch 'n putt golf course, petanque field, guest library and massage hut all surround the main pavilion. Families, couples, explorers and the odd business traveller enjoy a buffet continental breakfast or order from the a la carte menu. Staff offer tour tips and each has a favourite – the black magic village; the giant banyan tree; the blue cave. All share the same opinion – Yasur is just the beginning of your Tanna adventure.
In recent years a few smaller resorts have popped up on Tanna, but White Grass has built a reputation for its service, creature comforts and fantastic dining.
Food at White Grass is fresh, seasonal and sustainable. The restaurant serves seafood, including lobster, wahoo, yellow fin tuna, poulet, marlin and mahi mahi, pulled from the ocean in front of the resort. Fresh locally farmed prawns and Vanuatu beef are flown in several times each week. Local markets and growers supply organic vegetables, fruit and nuts grown in the island's rich volcanic soil. White Grass chefs are local Ni-Vanuatu people who are passionate about the local produce and use their skills and expertise to create memorable meals every day.
White Grass Ocean Resort & Spa provides guests with rare access to Tanna Island's unique village culture and raw, once in a lifetime, adventure experiences. The resort has been designed in response to this, and provides a sanctuary of luxurious accommodation, first class service and idyllic surrounds to unwind in following a day hiking up a volcano or diving the blue cave.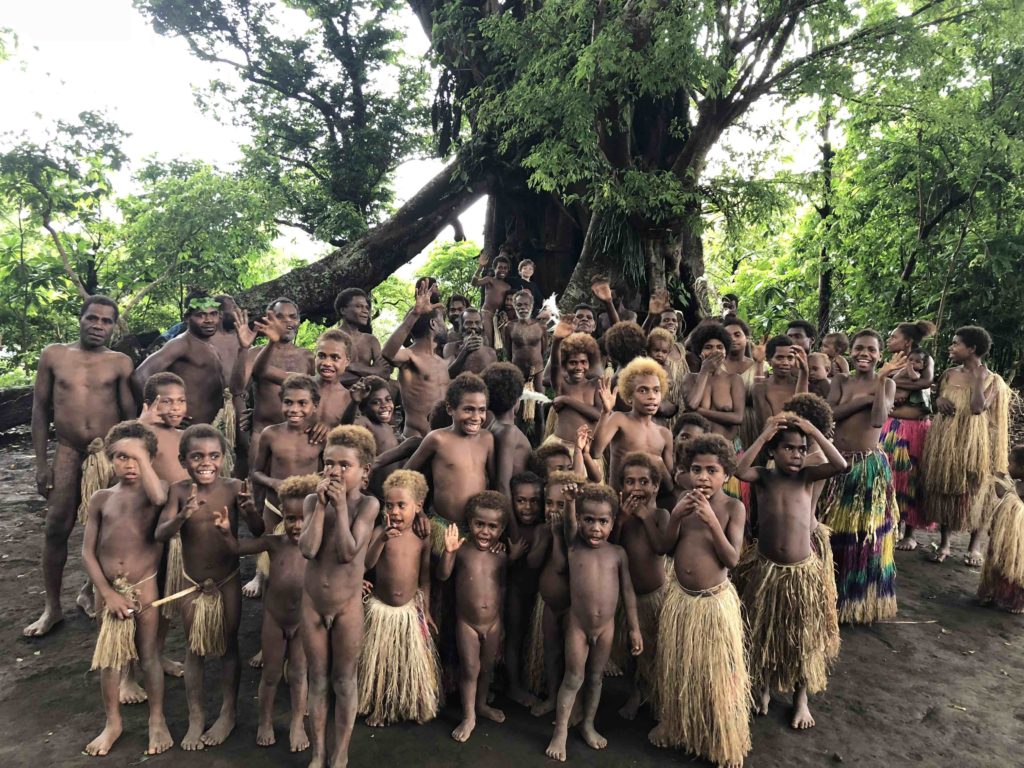 Our final day on Tanna we pile in to a local truk and head up the mountain again. This time our destination is an authentic kastom village. An hour or so later we arrive along a red mud path (road is too generous a term) and see local women and children come out from the jungle. The women are dressed traditionally, in leaf skirts, their upper bodies bare. Most of the children are naked, and they stare at our kids in amazement.
Within one minute the most amazing thing happens. My son jumps down, smiles at the village kids and starts to play tag with them. The next thing, around 50 kids are chasing him through the jungle and we can no longer see them. I can hear Julien laughing and the kids shouting in their local language.
The women check to see if I am okay and realising I'm fine, lead us to their home. Village life is extraordinary. Our guide explains the hierarchy of the village and we meet the chief. We see how they grow and harvest coffee, learn about birthing huts, cooking huts and the nakamal – the main meeting area for the men.
Every 10 minutes or so my son and his 50 followers run through the village, all screaming and laughing. It seems he is the pig and his new friends are the hunters.
"Boy blong yu ia wan strong hed little bit," the chief says. My son is a strong head – a little wild is the loose translation.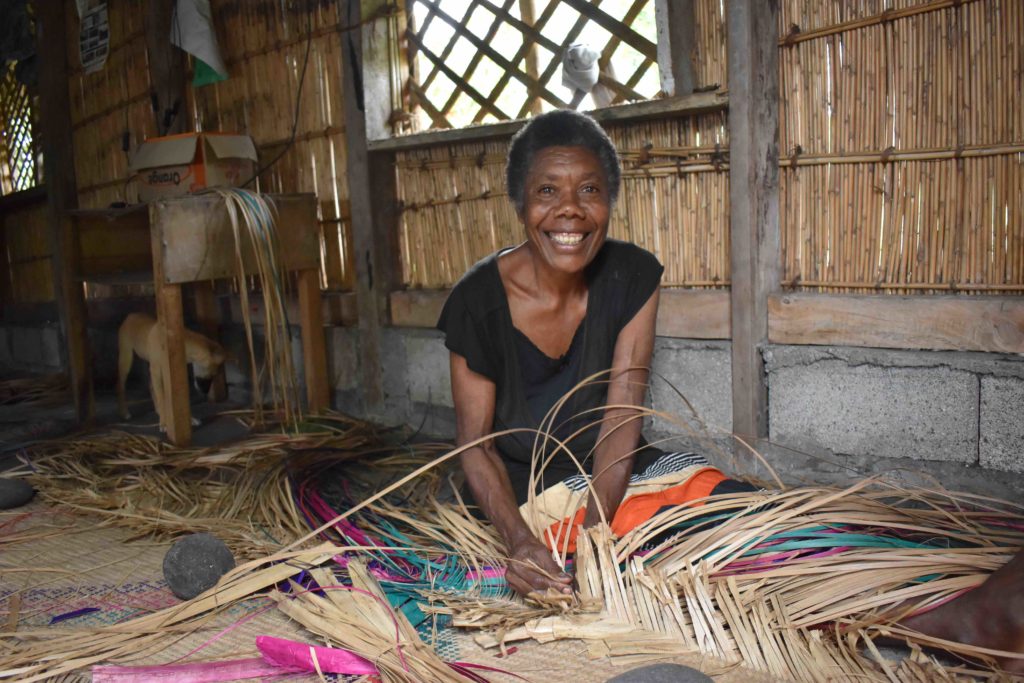 We spend an hour at the village and are privileged to see a glimpse of their way of life and feel quite emotional and reflective. These people are completely subsistence living. They sell their coffee at the local market to purchase basic things such as poly pipe, but apart from that they live and survive off the land. The kids make their own toys out of local tree branches and the women do the lion's share of the work – from raising the kids to cooking, cleaning and gardening. The Chief admits the men don't do a lot.
Yasur was awe-inspiring but seeing a traditional kastom village is the experience none of us will ever forget. The 15 year old girls don't reach for their ipads that night, instead they want to be outside playing like the village kids and the realisation of what matters in life becomes evident.
So close to the 'real world' Tanna should be on everyone's bucket list – particularly those of us with kids that probably need to see how happy other kids are without social media and technology.
White Grass Ocean Resort & Spa is located just 2km from Tanna Airport. Accommodation (including tropical breakfast) in the new family villas starts from around $400 AUD per night (VT42000 per night for a villa)
For more information visit: www.whitegrasstanna.com