Dine
Fiji: A Foodie Furlough
Our food editor, Christiana Kaluscha, usually does her own cooking but we thought it time to give her a break and the opportunity to table-test someone else's gastronomic efforts. She found perfection and paradise in the Mamanuca islands in Fiji.
May 18, 2016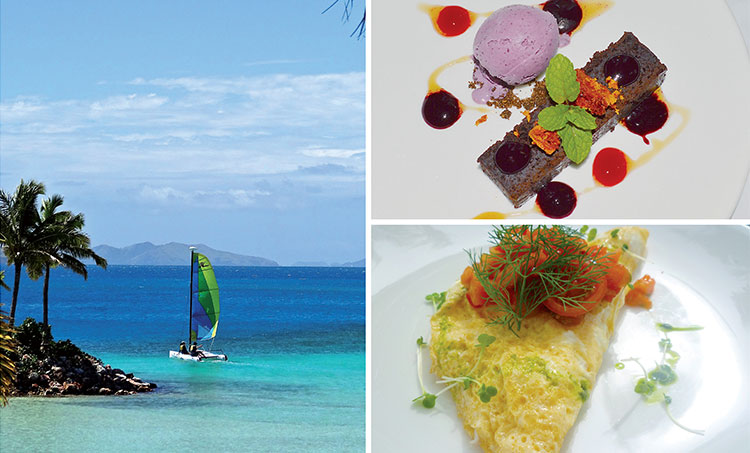 Pacific Island Living
May 18, 2016
Our food editor, Christiana Kaluscha, usually does her own cooking but we thought it time to give her a break and the opportunity to table-test someone else's gastronomic efforts. She found perfection and paradise in the Mamanuca islands in Fiji.
Warm trade winds are blowing and splashes of salt water are kissing my face. We are sitting on the top deck of the South Sea Cruises catamaran on our way to Malolo Island in the Mamanuca archipelago in Fiji.
The trip takes about two hours, stopping at several islands in the archipelago, loading and unloading passengers, until we arrive at our final destination Likuliku, situated on the island's secluded side, in 'the bay where the wind goes to sleep'.
Guitar music and friendly staff break into song as we disembark, welcoming us to Likuliku Lagoon Resort. We are greeted with a very warm 'Bula' by the charming resort manager Tulia and welcomed with a refreshing cocktail.
What an amazing and beautiful place!
Our luggage has been unloaded and we are accompanied to our deluxe beachfront bure. Style and sustainability go hand in hand in the design of the bures, from the natural fibres and woods to the special attention to detail. The secluded plunge pool adds an extra dimension of indulgence.
From the first moment we feel enchanted by the beauty of this island refuge with unparalleled levels of luxury and privacy.
Every aspect of Likuliku conspires to create peace, privacy and romance. No expense has been spared at this exclusive tropical hideaway set amid coconut plantations, beside a beautiful beach and atop the overlooking fertile coral reefs, brimming with tropical fish.
Welcome bubbles
A lovely welcome message and a bottle of Veuve Cliquot Champagne await us in our bure, our home for the next six days. After a quick freshen up, we are looking forward to our first lunch at the Fijiana restaurant. The pavillion has stunning views from all areas and an al fresco dining terrace, a relaxed Fijian atmosphere, yet a stylish dining experience.
Executive chef Shane Watson presents a fusion of Fijian, international and Asian flavours creatively put together with a mouth-watering presentation from the daily-changing menu. A focus is set on organic local product, fresh seafood and tropical fruit. He sources fresh herbs and vegetable from the on-site garden, which is well looked after by him and the Likuliku team.
Resistence is pointless
Lunches start off with an iced cooler of different fruits & herbs, such as iced pear and bush lemon, coconut and pineapple or orange and mint cooler, followed by a light appetizer. Some of my favourites are the seared mahi-mahi, spiced lime and coriander and the chicken con t and cucumber sandwich with pistachio crumble.
There are three different choices for the main course at lunch, from light to more substantial. I enjoyed the chargrilled, seared yellow n tuna served with a Lolo curry, kumala, lime and coriander and the grilled tiger prawns, local octopus with green papaya, chilli, mint, basil and sawtooth coriander while my husband Toga treated himself to a char grilled New York strip steak served with parmesan polenta, lemon and oregano salmoriglio. Everything was grilled to perfection, well spiced and simply delicious.
Chef Shane's desserts creations were to die for and it took a lot of will power not to overindulge.
Likuliku offers a lot of sporting activities, which are essential for us to work off all the delicious food. The activities bure serves as the island's adventure hub and offers fishing, paddle boarding, kayaking, windsurfing, water skis, sailing catamarans, diving and snorkelling tours with destinations changing on a daily basis. For those less enthusiastic about aquatic activities,there are guided medicine walks through the island gardens and walking tracks up to Jonas lookout. If this is all too much exercise, you can pamper yourself with a visit to Tatadra Spa, the 'House of Dreams' offering a diverse range of relaxing and soothing massages and treatments using sensational products.
At sunset, we are invited for cocktails to Masima Island. Burning torches alongside the dock present the place in a romantic light. Gathering on cushioned cane chairs under the stars next to the re pit, Tulia entertains us with lively tales. Guests all hail from a melting pot of nationalities, Europe, South America, the US, Japan and Australia.
Dinner is served
Then it is time for our highly anticipated dinner at Fijiana Restaurant.
An amuse bouche of tempura oyster mushroom with wasabi mayonnaise and ginger salad sets our tastebuds in action.
The choice between tuna tartare, Parma ham, almond, roasted pepper and Tabasco, mocha spinach risotto with goats curd, almond, porcini crumble and white cut chicken, cucumber, sesame and crisp chicken skin makes it hard to choose.
Having enjoyed the entrée, we excitedly move on to mains. Again – the choice isn't easy. I decide on the grilled Wagyu ank, smoked bone marrow and island greens, which is as delicious as the crisp pork belly with tatsoi leaf, snake beans, red curry and pineapple, my husband's choice.
Sense prevailing, I leave room for Chef Shane's dessert creations. The roasted hazelnut cheesecake with grapefruit and mint melts in my mouth and the cardamom crème brulee with bitter chocolate, pistachio and strawberry is equally delicious.
There is always a choice of cheese for those without a sweet tooth, such as jindi blue or triple crème Brie to finish off the gourmet dinner.
The wine list offers an extensive choice of carefully chosen international varities to please all palates, some at premium prices.
Cast away with Tom
The next morning, a 7am departure for island hopping in a speedboat brings us to Monuriki, the island where Tom Hanks languished for years in the lm 'Castaway'. 'Help me' is still spelled out in coconut husks on the beach. The snorkelling is excellent with abundant sh life and best of all – there is nobody but us!
Back to the resort our stomachs are rumbling and we are ready to indulge in the sumptuous Likuliku breakfast, initially we are presented with a lush tropical continental buffet composed of fresh fruit juices, tropical fruits, cereals, organic yoghurts, fresh baked bread and pastries complimented by a selection of house made preserves and local honey, followed by a cooked à la carte menu.
Again the choice is overwhelming, hand picked mud crab omelette with chilli and papaya relish, poppy seed bagel with smoked salmon, goat cheese mousse and avocado, cassava hash browns, poached prawns with sauce hollandaise, twice cooked gruyere baked soufflé with sautéed mushrooms, chilli and crisp pancetta, eggs benedict, buttermilk pancakes with Fijian vanilla and apple compote with mascarpone or free range eggs cooked to your liking.
After testing and tasting most of it, the winner for me was the hand picked mud crab omelette, what a way to start the day!
Time ebbs away with the rhythm of the ocean tides and we don't want to, but have to leave this 'heaven on earth'.
Compliments to the chef and his team who prepared some of the best food with fresh locally sourced products in such a creative way and with a fine balance of different textures and crunch.
Likuliku's fare is exceptional and a feast for the taste buds … only made more exquisite by the location.
'Vinaka vaka levu' (a big thank you) to the friendly, warm and talented Likuliku team who made our stay a wonderful experience. We will be back for more! For details about bookings, activities, holiday rates and packages, and transport see: www.likulikulagoon.com