Dine
Island Cuisine: the long lunch beachside
A couple of our favourite places in Vanuatu to while away an afternoon or evening.
December 6, 2016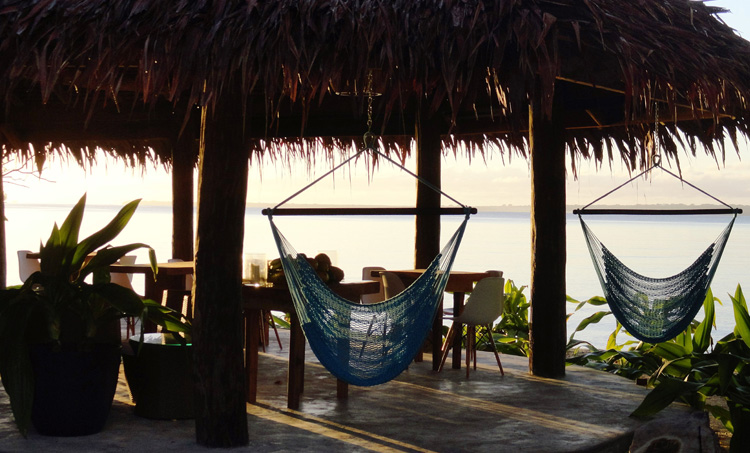 Pacific Island Living
December 6, 2016
A couple of our favourite places in Vanuatu to while away an afternoon or evening.
Two Canoes, Santo, Vanuatu
Two Canoes is a hidden gem boutique resort which opened its doors in July 2016. On Aore Island nestled in the bay just south of Luganville the resort and restaurant are accessed by a 10-minute boat ride across the Segond Channel from Luganville. The accommodation offering is elegant, 'islandy' and contemporary with the Plantation Studios featuring floor to ceiling walls of plantation shutters with modern en-suite bathrooms. The restaurant and cocktail bar are set right on a private sandy beach and are open to day visitors but limited to only 10 non-resident guests so bookings are essential if you want to enjoy a long and leisurely lunch. The resident chef is considered one of the best in the region and specialises in presenting the freshest organic fruits, vegetables and salads, complemented by the fabulous local land and sea produce. Think renowned Santo beef, locally caught lobsters and fish all to be enjoyed while taking in the views of the bay and outer islands. The cocktail menu is creative and accompanies an extensive wine list and a variety of cold international beers. If you choose to arrive by private boat, deep water beach access is available. For more information and bookings, see www.twocanoesvanuatu.com
Wild Ginger, Warwick Le Lagon,Port Vila, Vanuatu
New executive chef Satoshi Akimoto is continuing in the tradition of his predecessor, and continues to take a great interest in training the local talent. This is exactly what he has been doing at Le Lagon and believes that restaurants are only as good as the staff which in this case means very good.
Wild Ginger has long enjoyed a reputation for fine Japanese-influenced food and the central teppanyaki station is a great place to sit and watch the theatre as his team toss, flip and sauté the many fresh ingredients that go into the delicious range of dishes they produce. This includes, lobster, salmon, chicken, prawns, beef and vegetables and a variety of combinations of all these. But the menu isn't limited to just teppanyaki.
Entrées include 'nature's superfood' edamame beans to be eaten straight from the pod, coconut shrimp, salt and pepper tofu or squid, Vietnamese rice paper prawn rolls and Tom Yum soup a selection that ranges across South East Asia. Also from the à la carte menu there is a choice of a seafood grill or a Thai red duck curry among others.
There's also a selection of sushi and a tempting dessert list with several exotic ice creams and a crème brûlée.
The restaurant location within the spectacular grounds of the resort is in prime position with views over Erakor Lagoon to Erakor Island and beyond and has its own outdoor deck reached through the wall of bi-fold doors that keep the place breezily cool at all times.
In addition to Wild Ginger, the Warwick Le Lagon Resort also offers dining options across three other venues, from the casual Pool Grill nestled around the expansive pool and open for lunch daily to the Lagoon Terrace which is perfect for breakfast and dinner as well as the Lobby Bar for snacks and drinks.
For Wild Ginger bookings call +678 22 313.