Play
Sparring Partners
Our intrepid reviewers Georgie Gordon and Penny Gamble reluctantly agree to road testing some of the Pacific's best spa treatments. Total indulgence in exotic locations, what's not to like?
January 31, 2019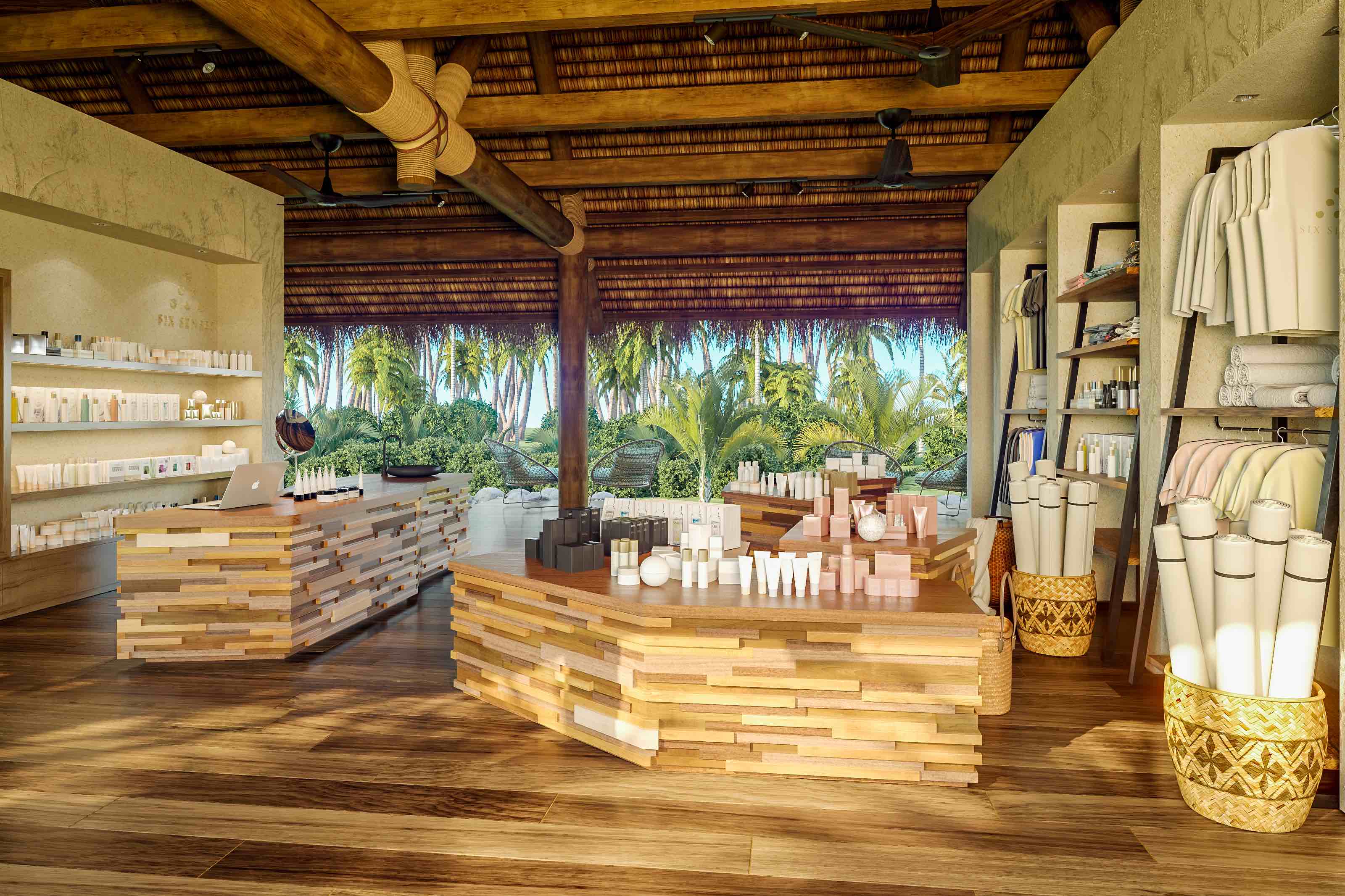 Rebecca Murphy
January 31, 2019
Six Senses, Fiji
The spa at eco-friendly Six Senses resort on the island of Malolo takes a holistic approach to pampering. Surrounded by a lush tropical gardens the spa embodies the philosophy that well-being is linked to rejuvenating benefits of nature. Stepping out of the jungle and into the calming lounge you can choose to visit the nail bar or the alchemy bar where you can blend your own local ingredients for a treatment in one of their four luxurious bures. For a more integrated approach the spa offers a wellness consultation and assessment for a personalised program including suggested lifestyle adjustments and one-on-one meditation sessions. Swoon worthy treatments include a muscle relieving hot lava shell massage and an indulgent gold leaf facial.
Do try: The Fijian bobo massage with herbal poultices. A warm massage with herbs picked from the spa garden designed to increase circulation, release toxins and ease muscle tension.
Taumeasina Island Resort, Samoa
Fofo Spa and Sauna at Samoa's luxury Taumeasina Island Resort offers a tranquil and rejuvenating escape with world class spa and beauty treatments that embrace Samoa's traditional practices.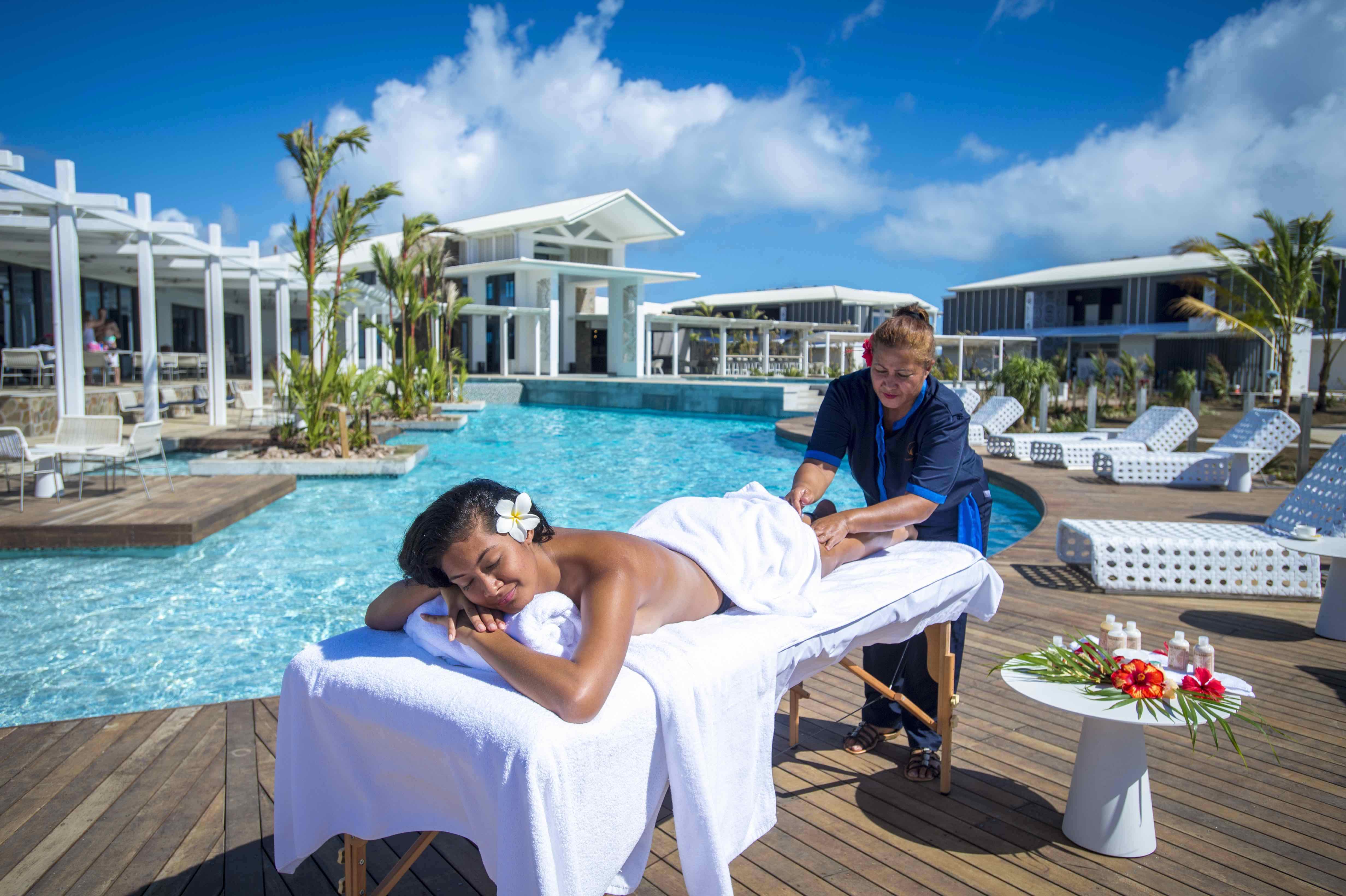 Soothing massages combine Swedish and local techniques using native oils of Layu and Nono. For those that like a firm massage the Taumeasina Signature Massage is an intense but therapeutic experience using the Lomilomi technique with a bamboo stick. Premium marine Thalgo and local Mailelani products are used for beauty treatments.
A range of beauty treatments are also available including facials, manicures and pedicures.
Do try: The Papaya Peel Natural Facelift Facial. An effective treatment for fine lines and wrinkles that conditions the skin for a soft and smooth appearance.
Likuliku Lagoon Resort, Fiji
Likuliku Lagoon Resort's spa is called Tatadra meaning 'house of dreams' and it certainly lives up to its moniker. The adults only resort, also located on Malolo boasts Fiji's first overwater bungalows. The spa's treatment rooms however sit on the island each one offering a view of the lagoon, the negative ions and sound of lapping waves adding to the serene environment.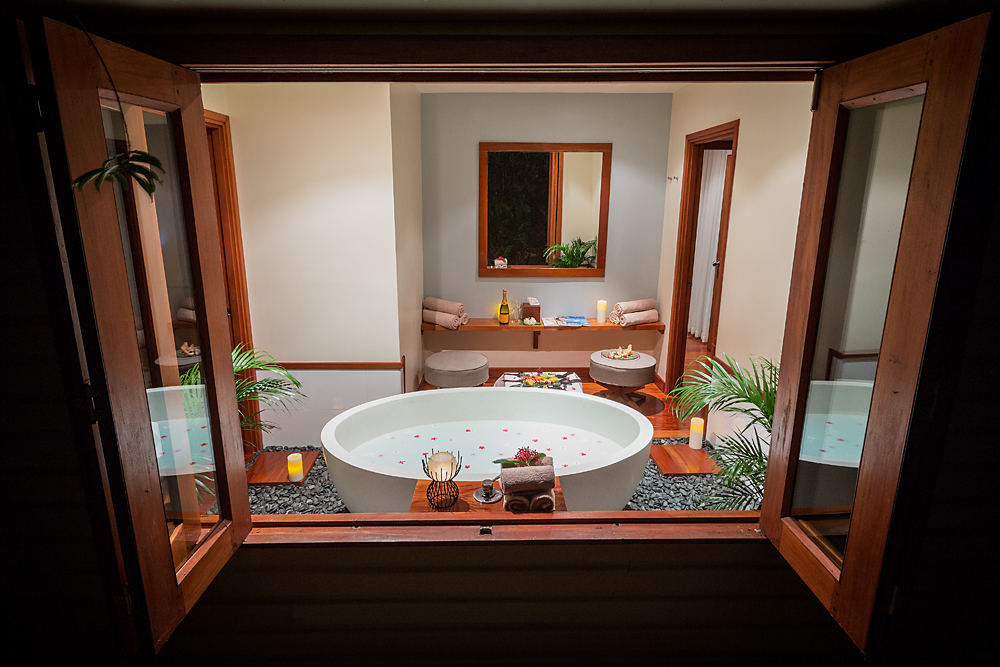 It is true luxury here, every detail thought of. The therapies incorporate indigenous rituals and there is a focus on natural beauty treatments using Pure Fiji products. Tatadra's Fijian massages by their specially trained therapists are a must when visiting.
Do try: The Twilight Tadra. A decadent couples treatment including champagne, massage and a hydrating milk bath.
Iririki Island Resort and Spa, Vanuatu
Unless you are a hotel guest a visit to Iririki Island Resort's day spa begins with short boat trip to the pretty island in Port Vila Harbour. As the ferry putts across the aqua blue water away from the hustle and bustle of town I relax and anticipate my arrival, I have heard wonderful things about the new spa that boasts one of Vanuatu's most spectacular settings.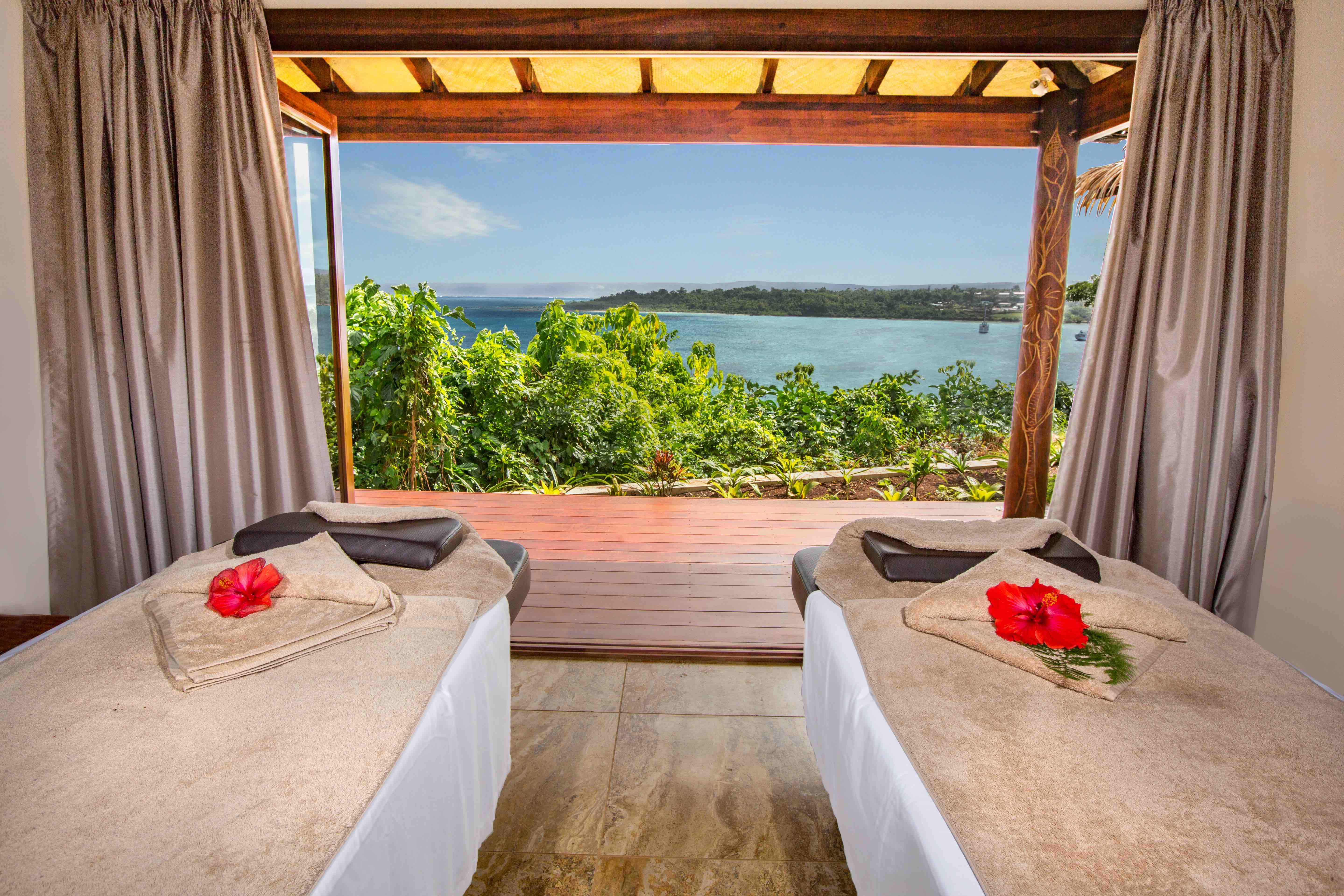 A quick buggy trip up to the very peak of the island takes me there where I am greeted with warm smiles. Entering the spa is a sensory experience from the sound of water bubbling from the water feature and birds chirping in the beautiful surrounding gardens, to the bowls of fragrant flowers, however it is the view that takes my breath away. Entering one of the treatment rooms (there are six) floor to ceiling windows boast the most spectacular view of the harbour and beyond.
I am lucky enough to have Joanna the spa manager as my massage therapist, I opt for the 90 minute Iririki Signature Massage, a mix of stretching, pressure point manipulation and other techniques designed for deep relaxation and tailored to address the specific needs of your body.
Drifting off I find myself wondering how someone so small can inflict so much pain, my petite therapist well versed in exactly the right amount of pressure to apply before bringing me back from the brink of excruciation to a sublime release of tension.
After a blissful hour and a half of being pushed, pulled and having my muscles rubbed into submission with Tanna oil and an especially pleasurable head massage where Joanna works her magic on the pressure points on my head, I lift my head to gaze across the sea feeling like a different person to the one that entered the room.
I could happily spend all day here, Joanna and her team are running a world class spa, Thalgo marine products are used for the skin treatments, there is a hairdressing salon, scrub room with a bath designed for couples treatments, outdoor shower and manicure and pedicure room.
Do try: As the mother of a young baby I knew I was tired but I was surprised by how much tension I had been carrying and how much better I felt after my treatment. I left feeling content, refreshed and rejuvenated. On that little boat back to Port Vila I am already thinking about my next visit, when I'll time a hot rocks massage to finish as the sun sets over that magnificent view. – GG