News
Our Quarterly Resort Report
Every quarter we write about what's happening in some of our favourite places to visit throughout the Pacific, here's our December to February 2019 update, enjoy.
January 30, 2019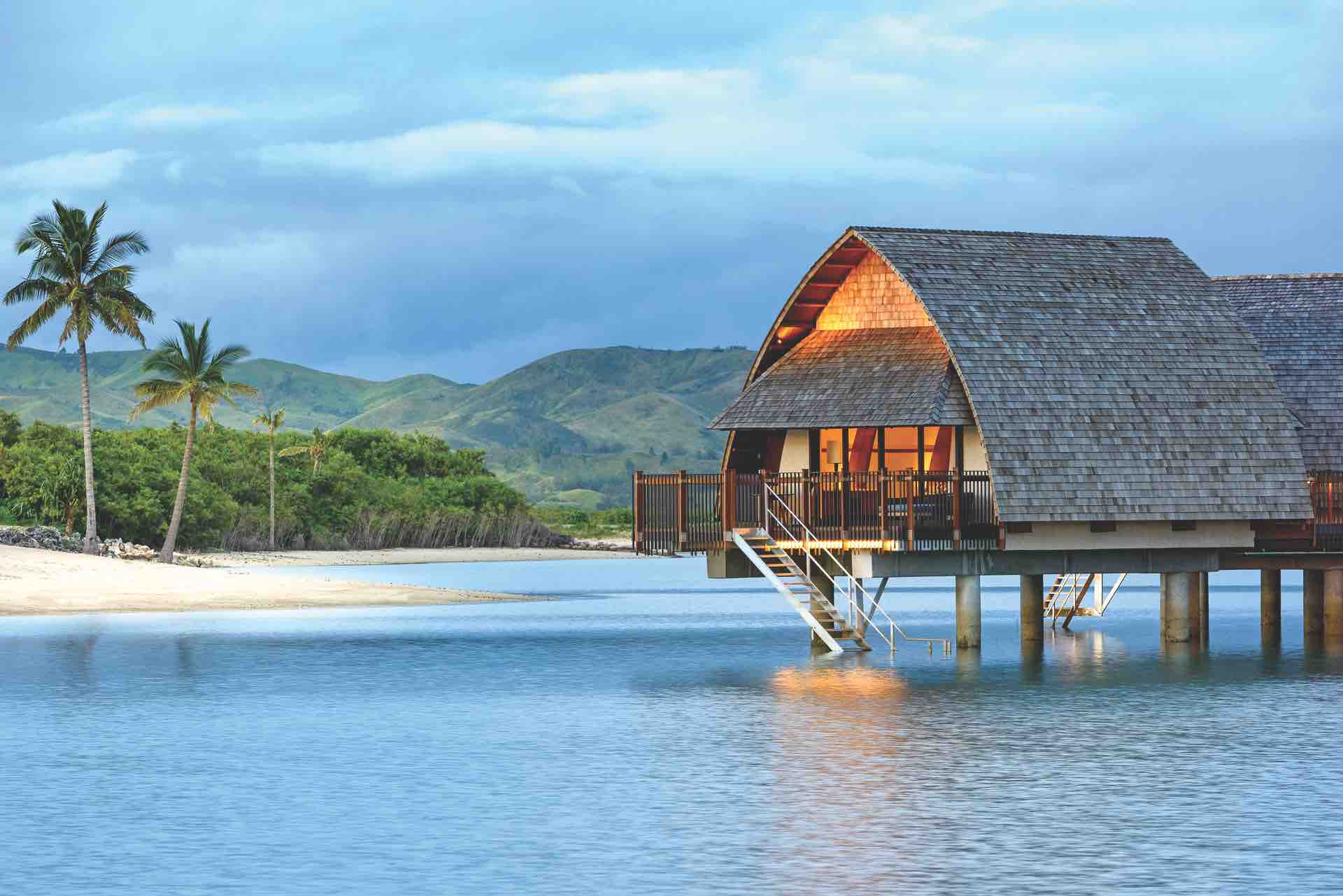 Rebecca Murphy
January 30, 2019
Log on to shape up in Paradise
Keeping in shape on holiday is a unique experience in itself at VOMO Island Fiji.
VOMO has its own tailor-made exercise programme called VOMOFit, so guests can exercise at their own pace; in the privacy of their villa, on the beach or yoga deck – wherever they choose – with an instructor or by themselves. It's as simple as logging on to the VOMOFit videos on a mobile device or tablet via the VOMO website and then pushing play.
VOMO General Manager Mark Leslie says, "What better place to continue a fitness regime or inspire the beginning of a new one than at VOMO. And guests can even take their memories with them and continue exercising once they're back home." The programme offers solo or couples options, as either one off, four or seven-day sessions. Designed by Australian based Kiwi fitness and wellness coach Scott Thompson the programmes are fun, challenging and motivating including a choice of cardio, circuit training and strength sessions.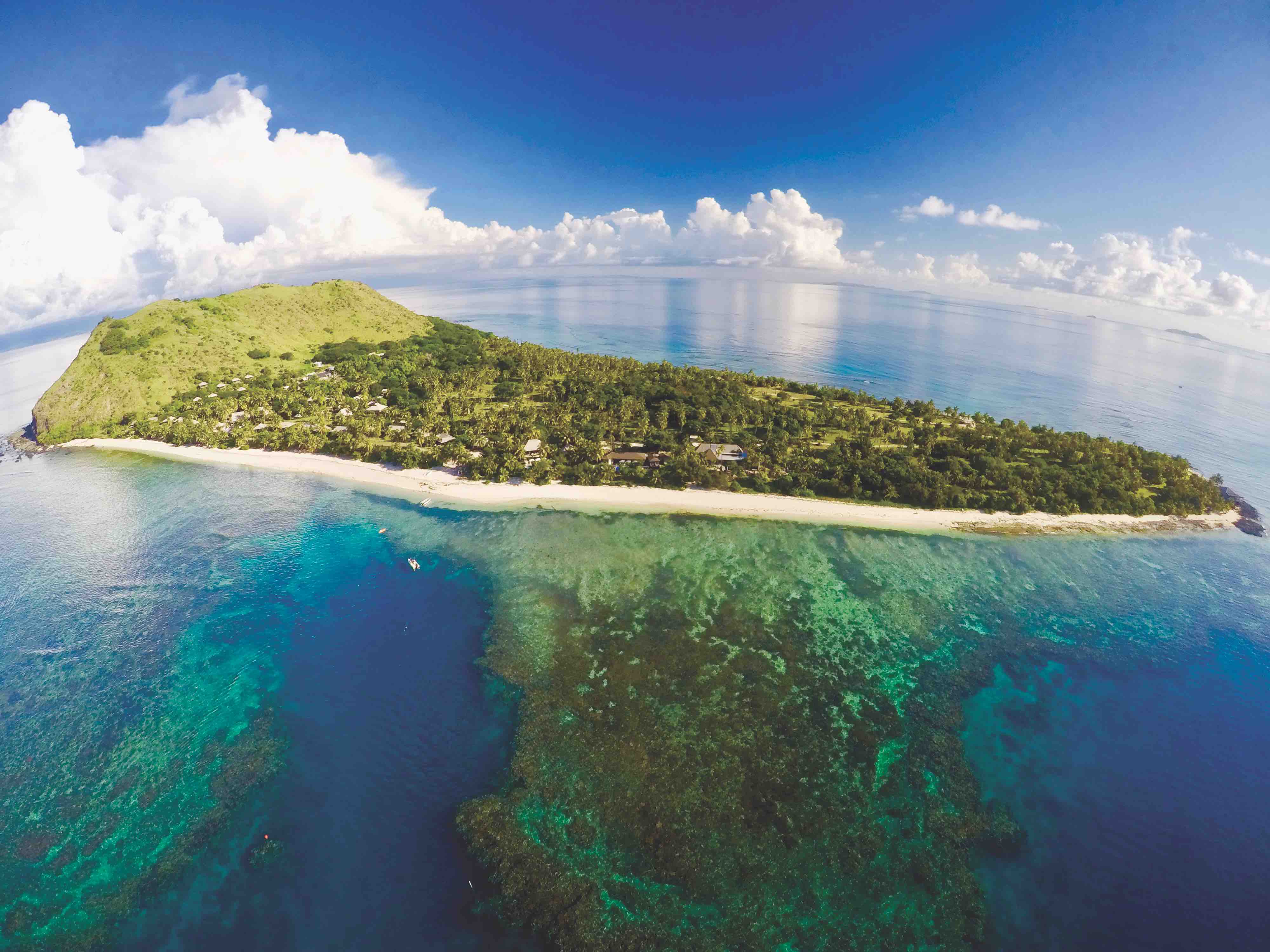 VOMO is an expansive island haven for exercising – 255 acres of land mountain, and 5km of white sandy beaches encircling the island. Guests can also challenge themselves by running or walking the Mt Vomo Sunrise Charity Run.
Mt Vomo is a soaring peak on VOMO Island with sweeping views across the resort and Mamanuca Islands, sunrise atop Mt Vomo is breathtaking.
Find the program at vomofiji.com/vomo-fit
Heritage Park Hotel, Honiara
Honiara's premier hotel has recently been refurbished with a fresh new boutique look. The Terrace restaurant now blends in with the garden extending beyond the patio. With green furniture and the overhang of plants, diners can feel part of the coastal surrounds of The Heritage whilst escaping the heat.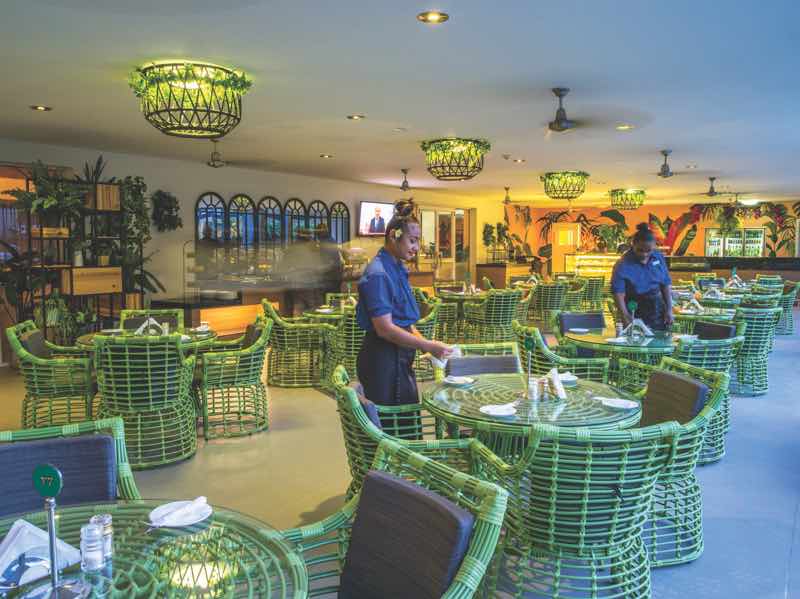 There is a permanent buffet and a dedicated live cooking station now as well. You can have eggs cooked to your liking at breakfast, be served express lunch during the afternoons and watch Mongolian food or the delectable Indian 'chaats' being served from here during the theme night dinners.
The formal GG's restaurant has a section of the interior dedicated to historical archived pictures of Solomon Islands.
There is plenty of use of local craft adorning the walls. One feature wall displays pictures of the Governor Generals who lived here when it was Government House, whilst another wall is beautifully decorated with mirrors.
At the hotel entrance a 'green wall' of foliage has been created to camouflage the view of the art gallery. The foyer is warm and welcoming. An art feature of a young Solomon Island boy reflects the essence of Solomon Islands as seen through his eyes. Visit www.heritageparkhotel.com.sb for more information.
Fiji's Iguana Nirvana
Based at Likuliku Lagoon Resort, the Ahura Resorts Iguana Sanctuary welcomed more new arrivals of the endangered Fijian Crested Iguana. These new captive-bred hatchlings bring the total to five born in the last year in what is the only facility of its kind in the world to successfully breed this species under 'natural' conditions. This essentially means, no laboratories or incubators and that the adult female laid her eggs in the dirt at the bottom of the cage as she would do in the wild. Other captive programs and zoos practice incubation where they actually dig the eggs out of the dirt and incubate them.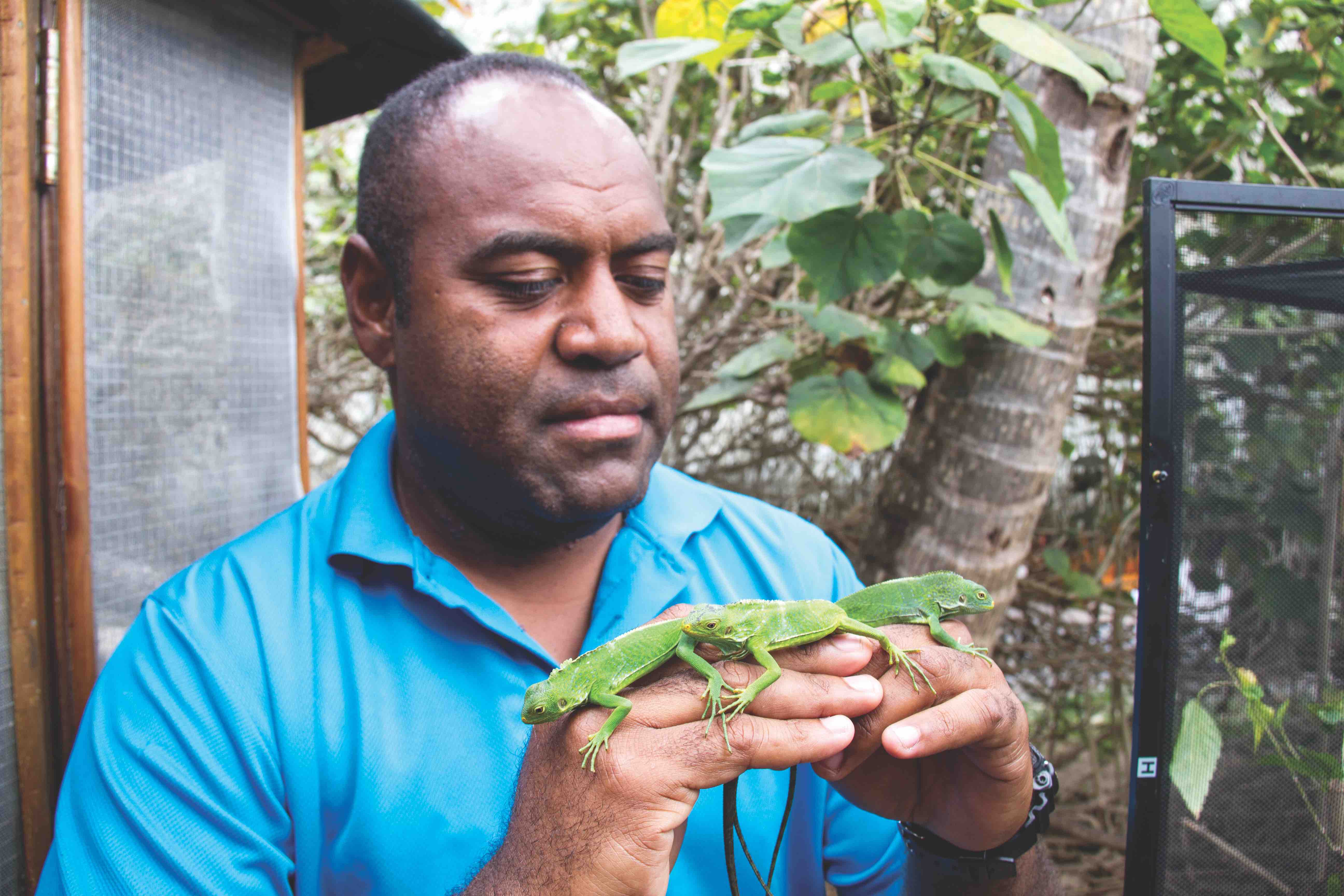 Sia Rasalato, Group Environment Manager for Ahura Resorts (Likuliku's owning/management company), explains: "Two of Likuliku's captive females laid approximately four to six eggs each back in January (you cannot identify the exact number of eggs each female laid due to the fact they hatch naturally in captivity). Three eggs from one of the females hatched on 30th August, but unfortunately one didn't make it as it was very weak. Following this, another egg hatched from the second female a few days later and we are expecting more eggs to hatch within the next couple of weeks. Then all these new hatchlings will be closely monitored before they are tagged and released into the wild. Visit www.likulikulagoon.com for more information.
The Ocean Downstairs
Discover your own tropical paradise at Fiji Marriott Resort Momi Bay, and if you can, stay in the overwater villas.
The resort features 136 contemporary Deluxe rooms and 114 luxurious Bure Villas, including 22 Over-Water Bure Villas with direct lagoon access. All rooms and Bure Villas come with a private balcony or terrace and extensive views of the pool, lagoon or ocean.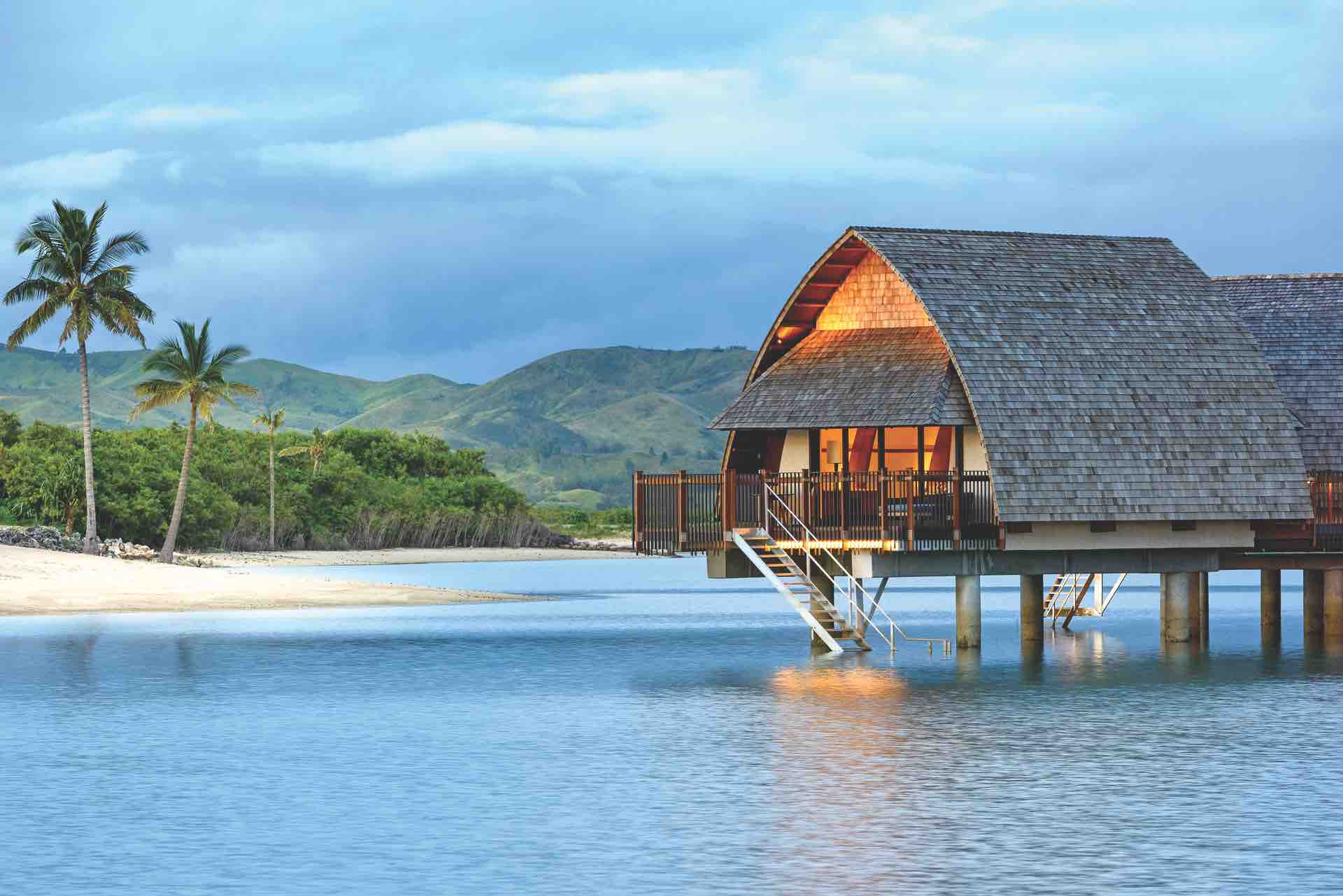 Enjoy drifting off to the gentle ocean breeze and waking up to the sound of lapping waves in a romantic adults only over-water bure villa. Dining options at Momi include several restaurants and bars, and private cabana dinner at Fish Bar, a refined dining experience that boasts breath-taking sunsets.
Escape to Quan Spa for an indulgent array of spa services and treatments and spa manicures. Quan Spa, featuring couple treatment rooms with a plunge pool, will delight and relax. Soak up the sun at one of the swimming pools, including the adults only infinity pool, relax at the swim-up bar and enjoy cocktails at the Lagoon Lounge. fijimarriott.com | momibay.reservations@marriott.com