Pacific Islands
The Ultimate Wedding Guide in the South Pacific
We've seen it all when it comes to the perfect destination for your South Pacific wedding, and there's something for everyone.
September 2, 2019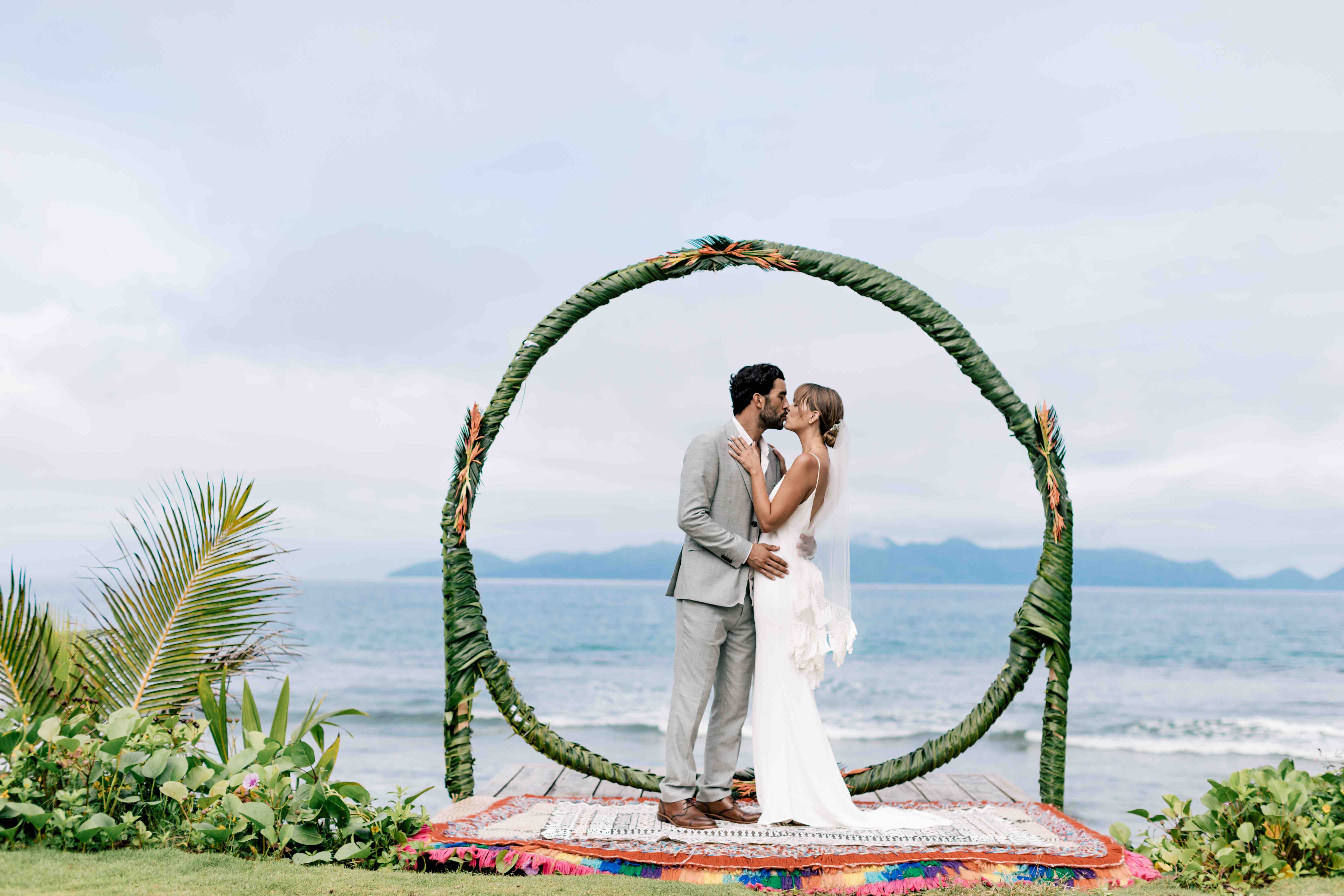 Rebecca Murphy
September 2, 2019
Breakas, Vanuatu
Breakas Beach Resort is an intimate tropical retreat, a short drive from Port Vila town it is one of the only beach front properties close to the hustle and bustle and huge array of things to do and places to eat. Breakas has to be the ultimate 'feet in the sand' beach getaway, enhanced by the natural beauty of a private cove on Pango peninsular,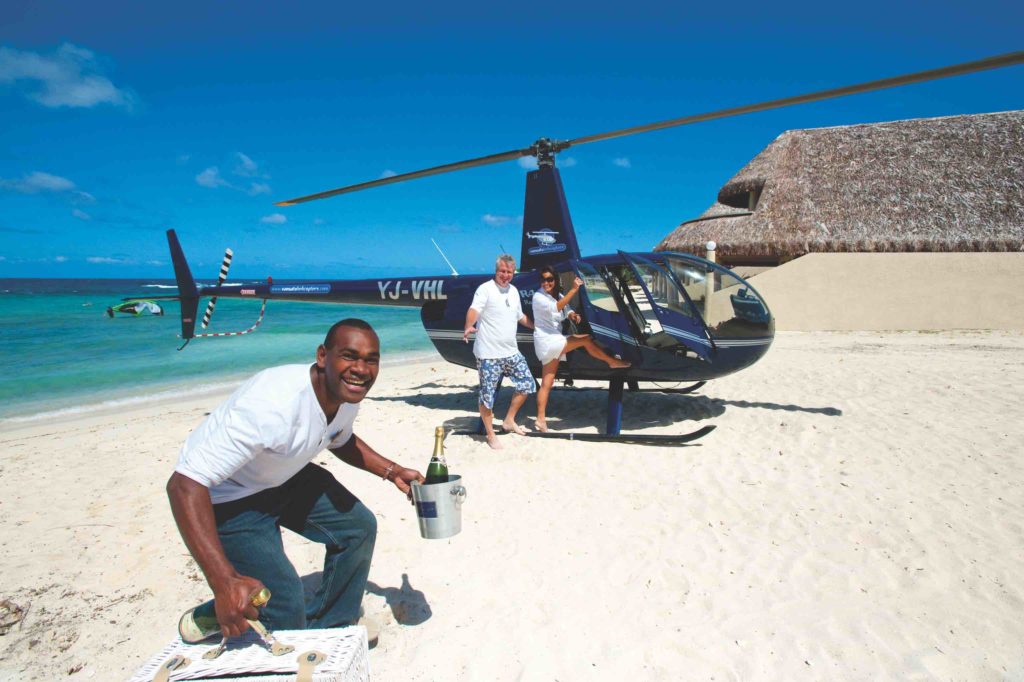 Breakas provides an unrivalled backdrop in Port Vila. This award winning resort boasts an absolutely stunning 22-metre infinity pool which blends with the horizon of the Pacific Ocean, easily move from pool to beach and dive in to the tropical, warm waters only metres away.
When it comes to celebrating your wedding day, Breakas has created some fantastic wedding packages, these range from an intimate exchange of vows on the beach at sunset to a full extravagant affair with wedding and reception taken care of. Breakas is the perfect venue for celebration; breathtaking views, unforgettable experiences, spectacular sunsets, Champagne, traditional warrior dancing and exotic locales lend themselves to creating the most magical wonderland for your perfect wedding day.
Unpretentious but eco-cool, the stand-alone fares for accommodation options salute the tropical climate with cross-ventilation timber louvres, open air coral bathrooms and traditional natangora ceilings.
The 'feet in the sand' ethos reflects all aspects of your holiday, celebrating the art of tropical living, relaxation and pleasure. To get married at Breakas means lasting memories of a beautiful location, beautiful people and the perfect way to spend the biggest day of your life.  Visit them at www.breakas.com for more info.
Likuliku Lagoon Resort
Likuliku Lagoon Resort remains synonymous with all things luxury in Fiji, this beautiful haven of pure paradise is the first and remains the only resort in Fiji with authentic over water bures, the natural ocean lagoon is surrounded by a marine sanctuary that is reserved for guests in residence to immerse themselves in, this pristine environment is a true magical sanctuary.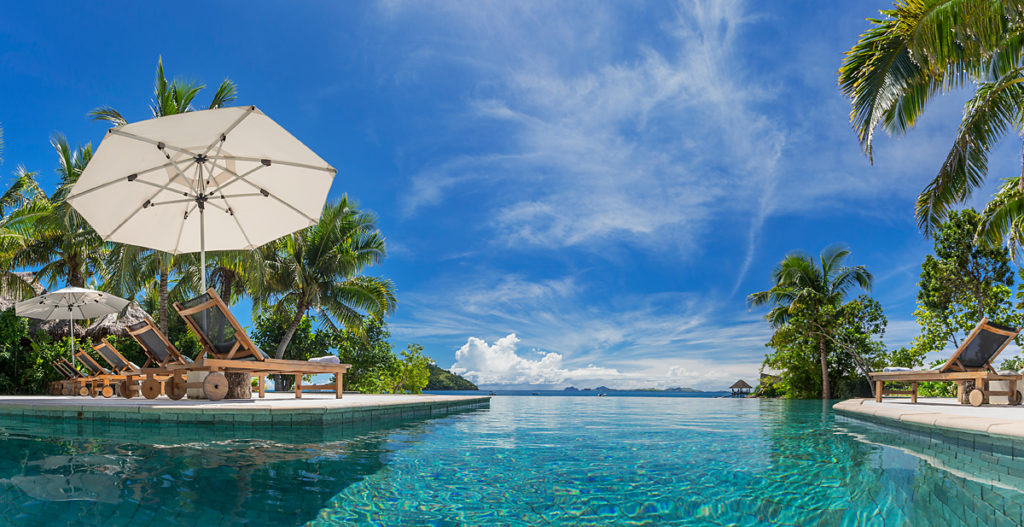 This is Fiji's unique luxury escape for couples, in 2018 the resort secured the lease of Mociu Island (pronounced 'Moor-thiew). This tiny, private, uninhabited island is only a 15 minute boat ride from the resort, Mociu is a protected nature reserve and the stunning waters and reef that surround it have been declared a marine sanctuary 'na tabu' by the Paramount Chief of the Mamanucas. Mociu Island is for the enjoyment of Ahura Resorts' guests (this includes Malolo Island Fiji) only.
There are options available for couples to enjoy this incredible island experience, guided snorkelling adventures to explore the abundant marine life and exquisitely colourful coral gardens, snorkel directly from the beach or from the other side of the island. If getting a sweat up is on the agenda then leave early morning for a hike to enjoy a perfect Fijian sunrise (a perfect setting for a proposal), enjoy a picnic to follow on the beach.
Daytime trips can also be planned, let the team take care of absolutely everything, lounge on the beach or go exploring to come back to a picnic lunch washed down with some bubbly, it's the perfect setting for a proposal or to enjoy your honeymoon. Mociu Island is blissful, beautiful, private and romantic.
Any special occasion can be customised to accommodate couples, each special need or individual wish can be catered for. Visit them at www.likulikulagoon.com for more information.
Bula Bride
When it comes to all you need to know about getting married in Fiji look no further than Bula Bride, this Fiji Destination Wedding website was designed to assist in helping create a dream wedding, elopement or honeymoon in Fiji.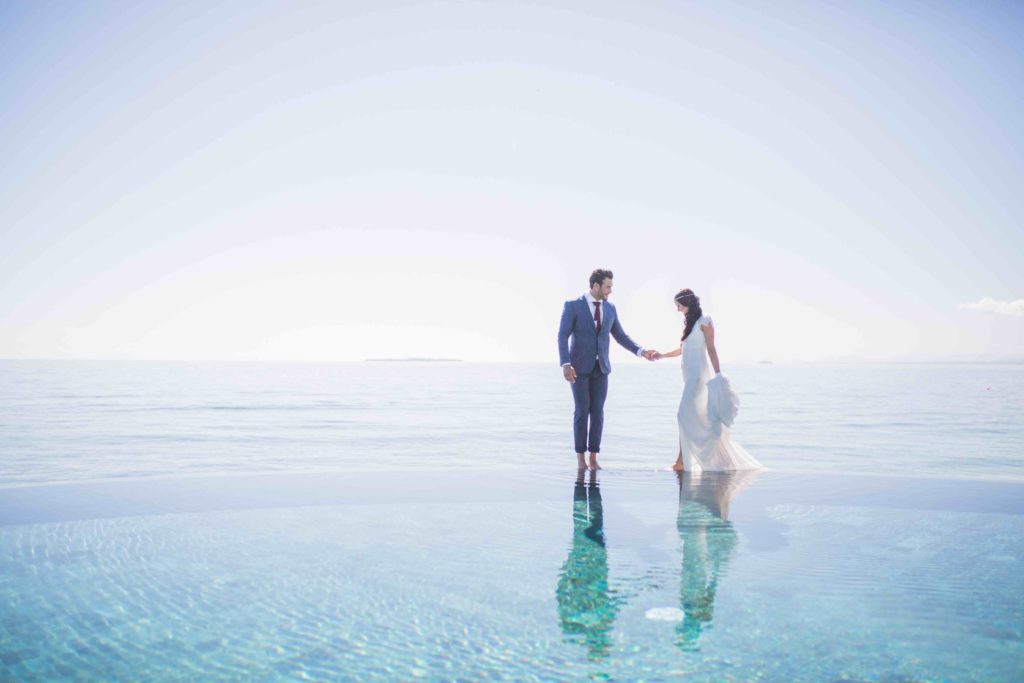 Destination weddings have so many advantages, palm trees and golden sand but mainly it's about getting away with friends and family, however the getaway can come with challenges. Bula Bride makes planning a Fiji wedding just that little bit easier, whether it's just starting the planning process or getting close to the big day, Bula Bride has a tonne of resources to keep everyone informed and inspired.
The Wedding Directory will have you covered for every need or whim to inspire you when planning your wedding day. Fiji's best wedding suppliers are all listed online ensuring the crème de la crème are there to choose from to help bring the day to life. There is also an option to browse through recent 'Real Fiji Weddings' for Fiji wedding inspiration. Real Weddings showcases weddings from around the Fiji Islands, with stunning photography and personal tips from brides.
Happy Fiji wedding planning! www.bulabride.com
Tokoriki Island Resort
Tokoriki Island Resort has consistently been voted Fiji's number one resort, if you have stayed, you will understand why. This luxury, boutique island resort comprising eight Beachfront Bures,18 Beachfront Pool Bures and 10 Beachfront Pool Villas is a standout when it comes to all things style, luxury and indulgence.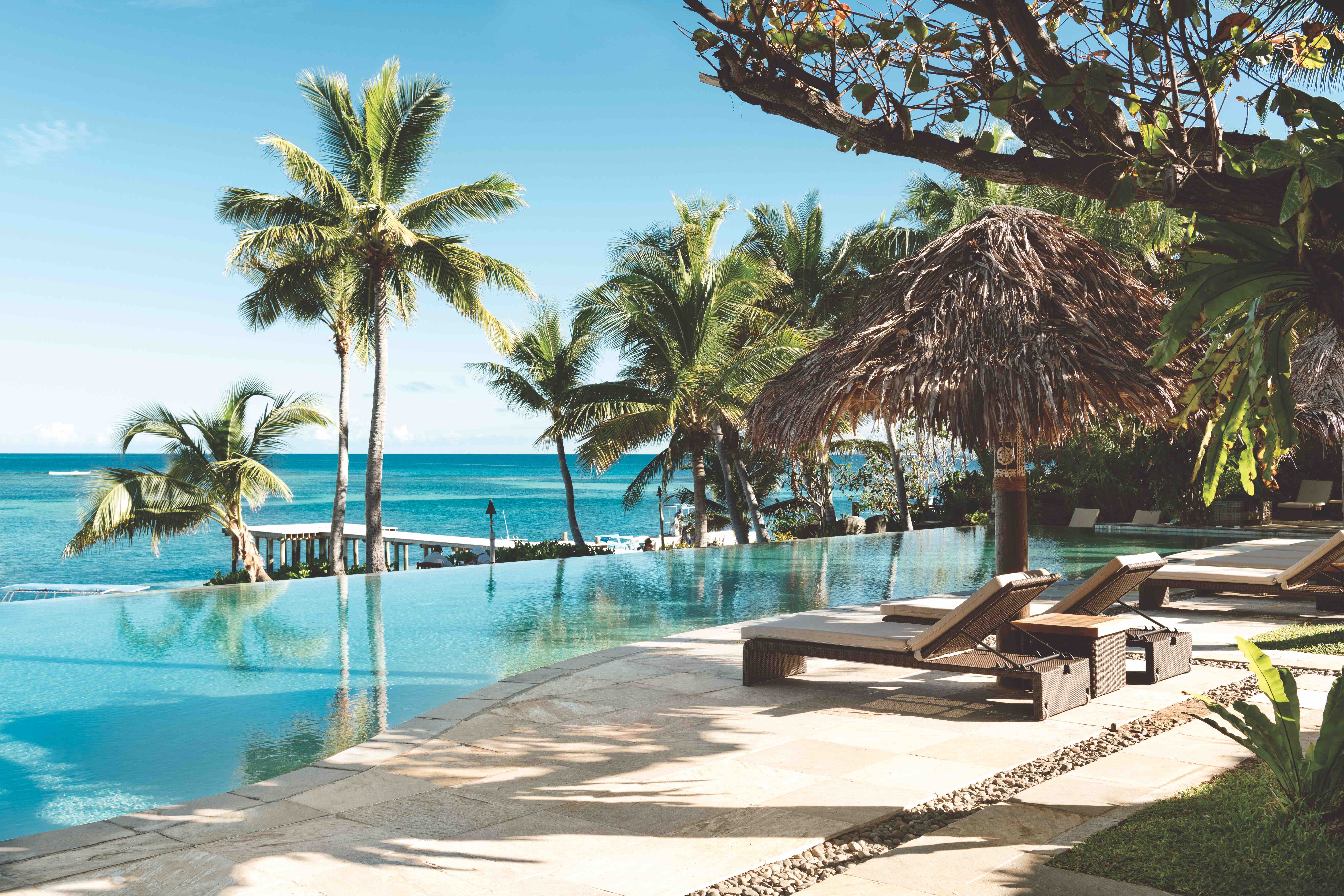 Tokoriki Island Resort is famous for being the most romantic resort in Fiji and is the current TripAdvisor #1 Resort for Romance. The resort is child-free allowing the environment to provide peace and quiet for couples to escape, relax, reconnect and enjoy everything that this beautiful resort has to offer. Tokoriki is perfect for honeymoons, anniversaries, renewal of vows, proposals and elopements, it's not a wedding venue for large groups and this makes it a standout when it comes to all that is boutique and bespoke.
The resort itself has been cleverly designed down to the smallest detail, it's stylish and fuses contemporary and Fijian style, the bures are all freestanding, air-conditioned and with unique tropical outdoor showers surrounded by lush landscaped gardens.
Tokoriki Island Resort offers barefoot beach weddings, traditional chapel ceremonies or for the ultimate in privacy on the deck of your beachfront pool villa – the choice is yours. Wedding and elopement packages ensure a truly memorable wedding day at Tokoriki Island Resort.
If you're not at the aisle stage yet then choose from endless locations to pop the question! An island beach picnic, romantic oceanfront dinner on the jetty, in the privacy of a bure or villa at sunset to name a few. The Romance Co-ordinator can deliver the most amazing day to be remembered forever.
Visit them at www.tokoriki.com for more info and a guarantee that you wont visit just once.
Tamanu On The Beach
Peaceful, private, romantic and secluded, Tamanu on the Beach Resort and Spa is located on its own private white sand beach, where you feel a million miles away from reality but just 20 mins from Port Vila, Vanuatu.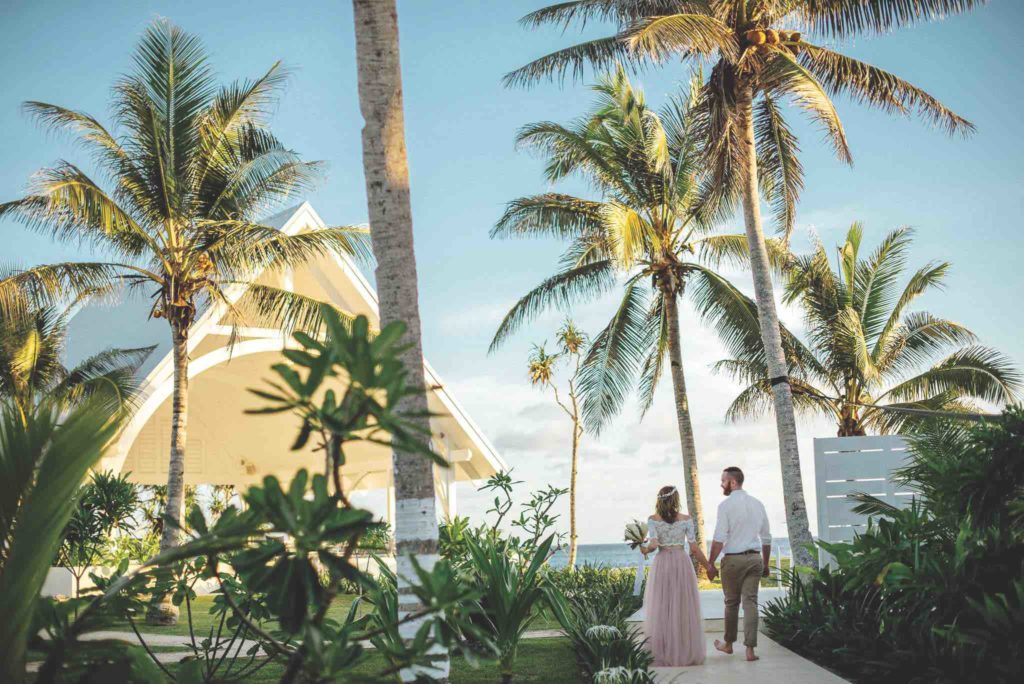 This five-star resort is the perfect combination of elegance, luxury and relaxed tropical beach atmosphere.
You have the option of getting married in Vanuatu's only purpose-built wedding chapel, right on the beach, or kick off your shoes and have the ceremony on the powdery white sand. Wedding planners are based in both Australia and Vanuatu to make planning as easy as possible.
The top-rated restaurant is regarded as amongst the best in the region and offers a Pacific cuisine using only the freshest local produce.
The accommodation is simply stunning, with airy bures, plunge pools and tasteful decor. It epitomises understated elegance. For more see www.tamanuonthebeach.com
Villa 25
Vanuatu is recognised as one of the best island destinations in the South Pacific and Villa 25 (right) offers the ultimate setting for luxury villas in Vanuatu, bathed by azure skies on the aquamarine waters of the South Pacific Ocean.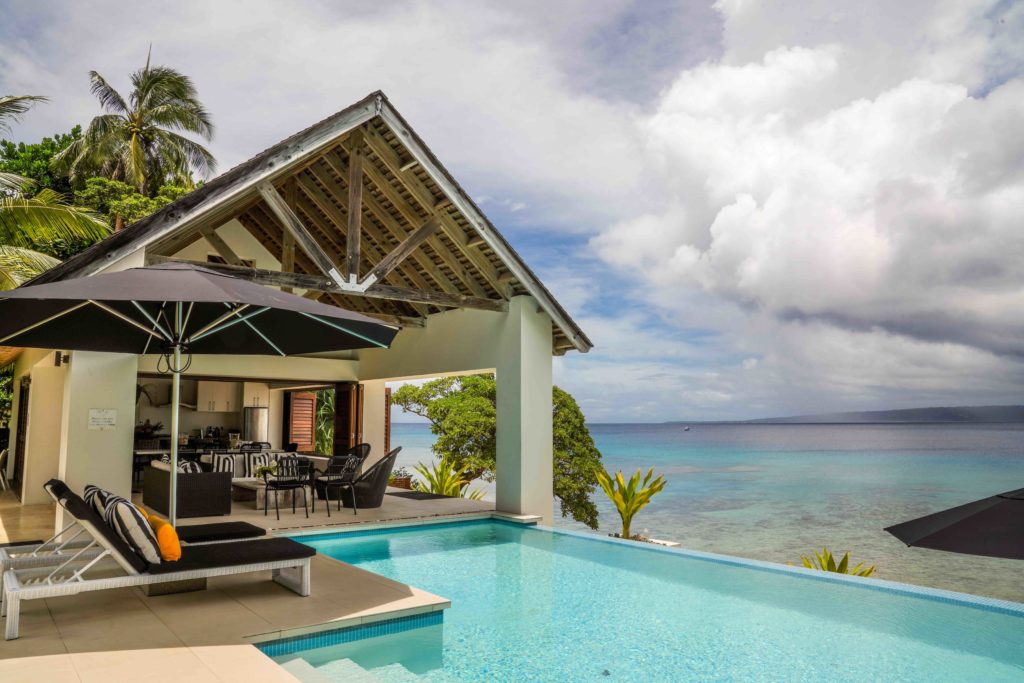 The privacy, spectacular location and understated luxury make Villa 25 the ideal place for a romantic and intimate wedding or honeymoon. Conveniently located 20 minutes from the airport and five minutes from town in a private gated estate, Villa 25 is the perfect destination for both exclusivity and privacy.
The property is set on its own private beach with three luxuriously appointed two-bedroom, air conditioned villas, designed to maximise both privacy and views, and fitted out and decorated to the highest standard.
Each villa includes a fully equipped kitchen and private covered patio with sun loungers and dining area. The cooking facilities in the villas give you the option to purchase the abundant local produce – be it French cheeses, organic beef, fresh fish or seasonal tropical fruits from the market. Or if preferred, Villa 25 can arrange to have a private chef prepare gourmet cuisine for you or organise catering to be prepared and delivered to your villa. A provisioning service is also available.
The poolside Lowana (gathering place) is just a few metres from the water's edge overlooking a private sheltered beach. The perfect setting in which to kayak, paddleboard or snorkel amongst abundant coral and tropical fish, directly in front of your accommodation.
Villa 25's proficient manager and staff will look after your every need and provide local knowledge on everything from supermarkets to scenic flights, organise yoga, massages and beauty treatments by the pool or in the privacy of your own villa. Email: relax@villa25.vu
Eratap Beach Resort
Eratap Beach Resort (left) has stayed true to it's boutique style, this beautiful resort is authentic, stylish and superbly uncrowded as they keep their focus on keeping guest numbers low to ensure all who visit are taken on a unique holiday experience that has a limited impact on the natural environment. A resort with a conscience and a desire to show you what luxury is really all about.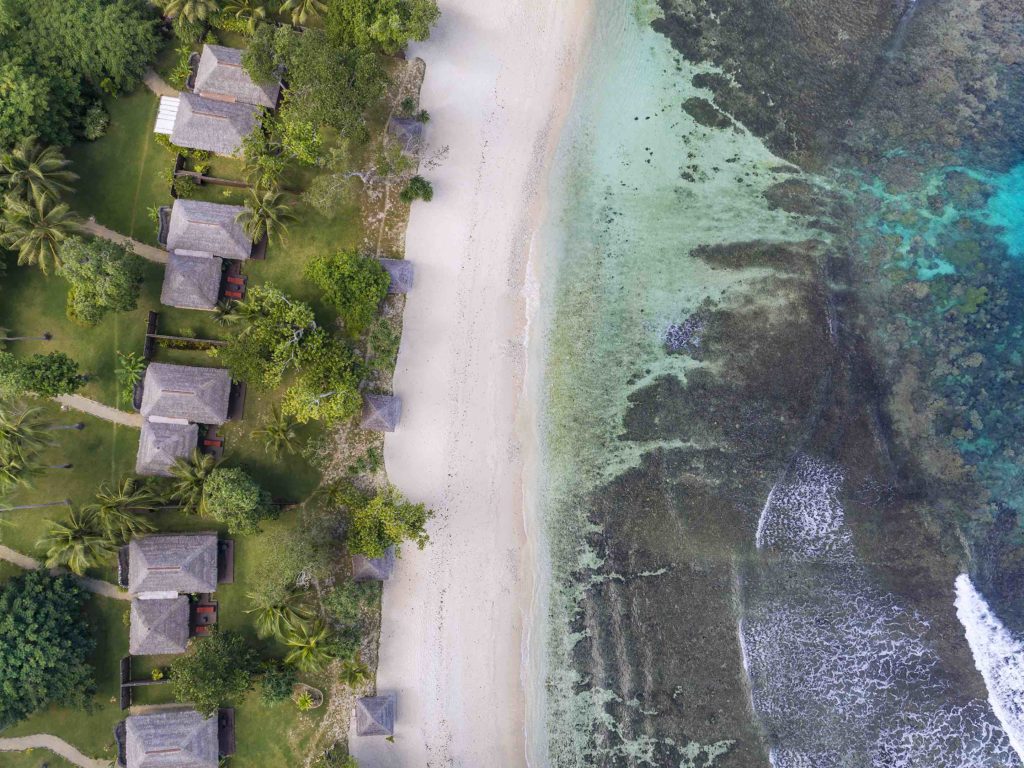 Eratap is the perfect place to unwind, explore and enjoy all that Vanuatu has to offer, it's the perfect place to spend your honeymoon, privacy and luxury at the forefront of this resort mean that any time spent here as newlyweds is absolute perfection.
Eratap has two Honeymoon Villas and it is hard to imagine a more romantic setting. Villa 11 has stunning Eworentpat beach a few steps from your bedroom and Etlau lagoon spreads out from the lounge room window this honeymoon villa is quite simply, beautiful.
With it' stunning waterfront plunge pool, couples can enjoy total privacy in an idyllic setting, the king sized bed just metres from the white sand beach. Waves roll perfectly along the fringing outer reef or you can snorkel through the purple tipped staghorn coral just a few strokes from the lounge room.
Villa 12 is in a stunning location overlooking Etlau Lagoon. With a private plunge pool and lounge pavilion set on the water's edge, couples can enjoy complete privacy in this tranquil and picturesque setting. Swim out from the villa into the calm lagoon waters, or share romantic meals in the outdoor thatched pavilion.
See www.eratap.com for more info on the villas.
Warwick Le Lagon
Warwick Le Lagon in Vanuatu has long been known as a vibrant, five-star family-friendly luxury resort located on the shores of Erakor Lagoon in Port Vila. A quick five-minute drive from Port Vila town means visitors can enjoy the busy surroundings, but also a quiet escape to return to means the balance of both is there to enjoy.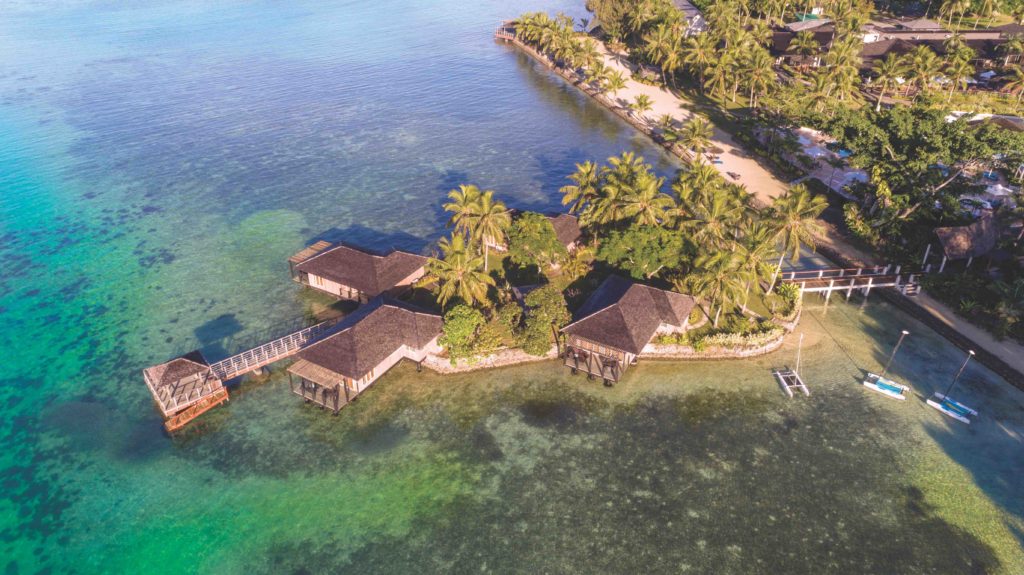 Pampering and personalised service permeate every aspect of your stay. Choose from luxurious rooms with garden or lagoon views, standalone bungalows or exclusive villas on the lagoon. Featuring a variety of restaurants and bars as well as a large conference centre and onsite meeting rooms, Warwick Le Lagon – Vanuatu is the perfect location for your next event. And, of course, it's a dream venue for unforgettable destination weddings and honeymoons.
Whether it's the Overwater Deck for a stunning backdrop to celebrate the wedding of your dreams or the Warwick Beach Terrace offering various locations for a tropical feet-in-the-sand, beach wedding. This resort is an idyllic place to exchange vows – whether in the early morning sunrise, during the afternoon with the water glistening or enjoying the incredible sunset over the horizon. In fact select any scenic location amongst the 75 acres of lush tropical gardens with the sweet-smelling native gingers and frangipani to ensure your celebration could not be topped.
Warwick Le Lagon has of variety of wedding packages available, some including complimentary upgrades and a vast array of options to suit small elopements to larger weddings.  Head to www.warwickhotels.com/warwick-le-lagon-vanuatu for more information.
Hideaway Resort Vuda 
The iconic Fiji Hideaway Resort & Spa on the Coral Coast is renowned for its weddings, and now has a stunning sister property. Hideaway Resort Vuda opened in November 2018, this boutique beachfront luxury resort is located in the picturesque Vuda area , just 20 minutes from Nadi International Airport and close to Vuda Point Marina which allows you to access Fiji's outer islands.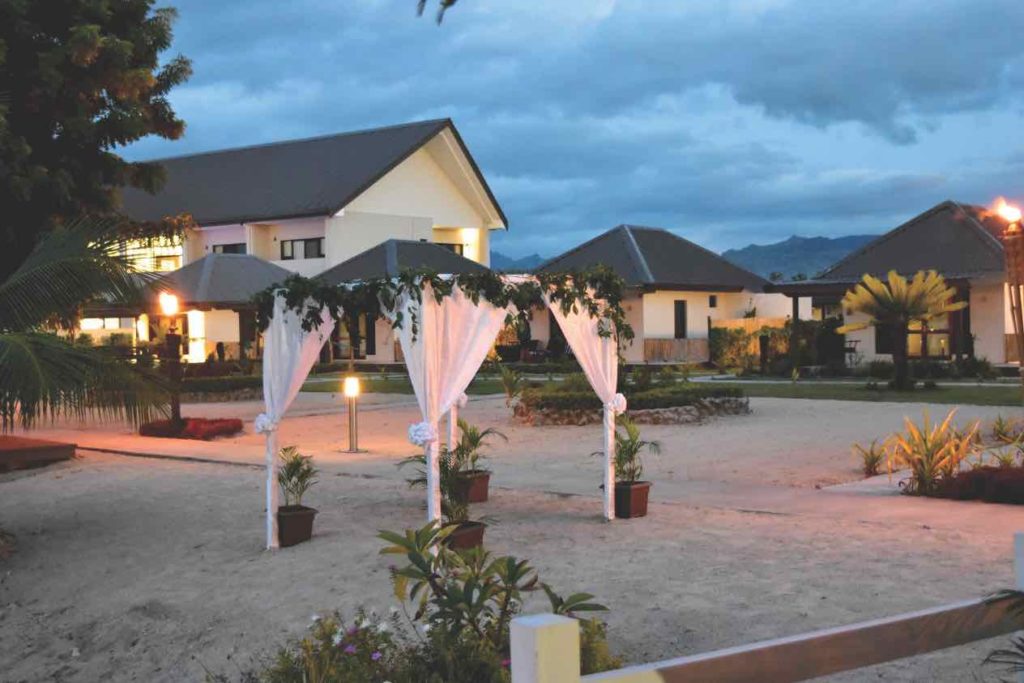 Hideaway Resort Vuda offers personalised and friendly Fijian service that guests have been accustomed to at their Coral Coast property. The ideal luxury beachfront setting has been designed specifically to cater for weddings and honeymoon escapes to ensure couples begin their life together in perfect beachfront, tropical style.
A dedicated wedding co-ordinator and a team of experts ensure your special day is perfect in every way. Fiji Hideaway Resort & Spa, Vuda offers a choice of three venues – The Deck, The Beachfront Wedding Chapel or on the beach with sweeping ocean views. The resort's private beachfront location is ideally suited to for tying the knot. Email: weddings@hideaway.com.fj or visit www.hideawayfiji.com
Totoka Hair Salon
'Totoka' means 'Beautiful' in Fijian, which is central to the experience that Totoka Hair & Makeup create for their clients, if you follow them on Instagram and trawl through the beautiful transformations it's clear to see why they are so popular.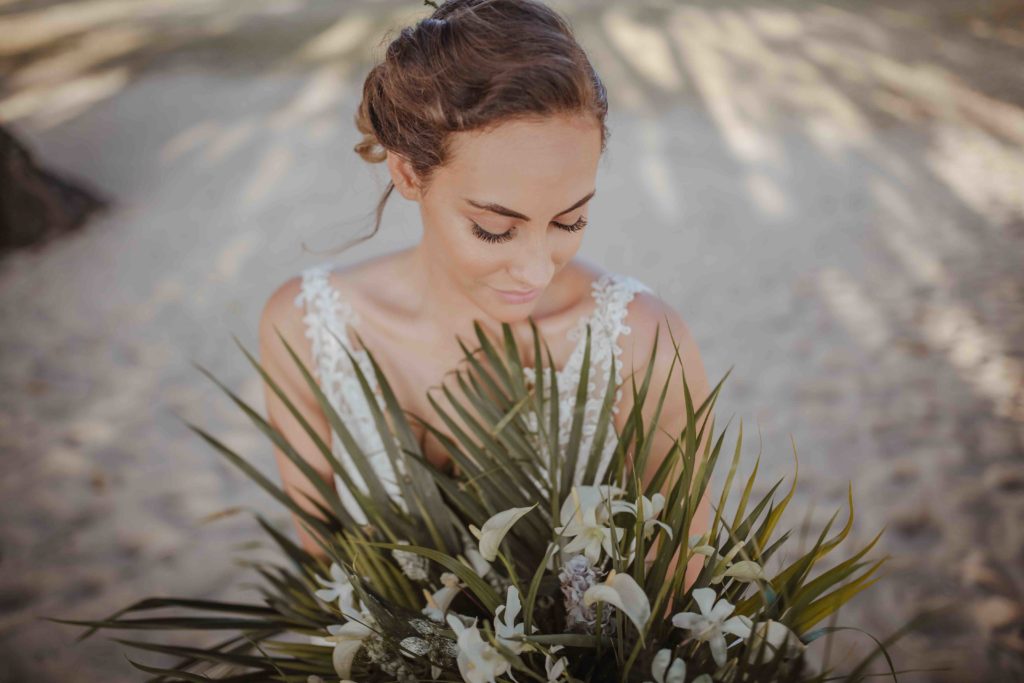 Totoka is the leading provider of hair and make up services in Fiji and has built an enviable reputation for providing high quality work at a reasonable price. Client satisfaction is incredibly high thanks to a team commitment to high quality work, regular training workshops and encouragement of the team to be the best in the industry.
Totoka Hair Salon is based just five minutes from Denarau and caters for both a local and international clientele, offering international services with qualified salon stylists and beauty therapists. In addition their stylists offer mobile hair and make up services all over Fiji ensuring they can get to you wherever you are in the country.
Totoka stylists are experts in their field and ensure clients look and feel gorgeous for their wedding day. Manicures, pedicures, spray tans and massage providing a complete range of pre-wedding pampering for any bride to be.
Both their salon stylists and wedding stylists are highly sought after by local and international clientele and recognised as some of the best in the industry, with their CV's including experience in weddings, photographic shoots, film and television work, Fiji Fashion Week and more. Check them out at www.totokahairfiji.com or follow them on Instagram @totokahairfiji 
Captain Cook Cruises
Captain Cook Cruises in Fiji has recently released their new wedding packages, with many options for marrying the love of your life in the romantic paradise that is Fiji. If it's a wedding at sea or perhaps in a remote Fijian Village or on a magical private island, Captain Cook Cruises Fiji can make it happen with their new offerings that will take you off the beaten track to a day that you will never forget.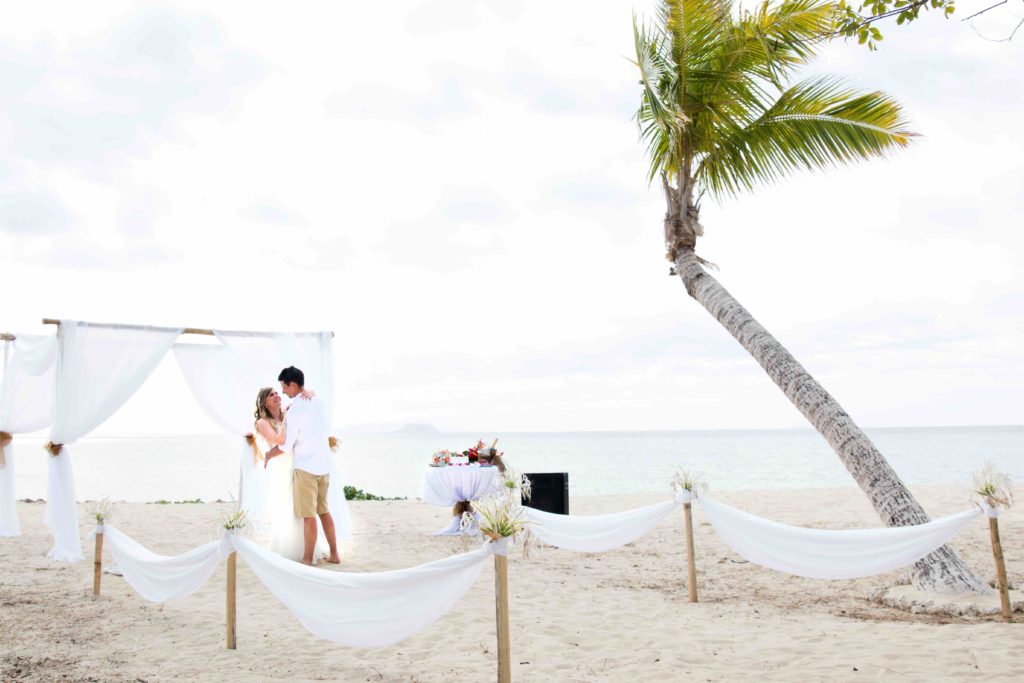 Get aboard the Reef Endeavour with the Wedding Package Cruise and experience the beautiful islands of Fiji on Captain Cook Cruises three, four, seven or 11-night cruises for the wedding of your dreams. Be married with the sun setting in the background onboard the MV Reef Endeavour, or on any deserted white sandy beach or at an authentic Fijian village. The options are endless.
The package includes a dedicated wedding planner to finalise the wedding license and ensure the wedding is perfect; a marriage ceremony performed by a celebrant during your cruise onboard Reef Endeavour. Singers, bouquet and groom's buttonhole can be included along with some bubbly and wedding cake. Just arrive and it's all taken care of.
Captain Cook Cruises Fiji is offering a Reef Endeavour Wedding Group Bonus – cruise up to seven nights with 15 or more family and friends and receive a wedding package for half price or bring 30 guests or more and the bride cruises for free.
There are plenty of options for large and small groups, catamarans, private islands and honeymoon packages too, so many ways to make sure if it's just two or a large group Captain Cook will have what suits your needs. For further information and bookings visit: www.captaincookcruisesfiji.com 
Taumeasina Weddings
Taumeasina Island Resort, Samoa is an established luxury resort with beautiful sweeping views situated on an exclusive island just outside of the capital, Apia.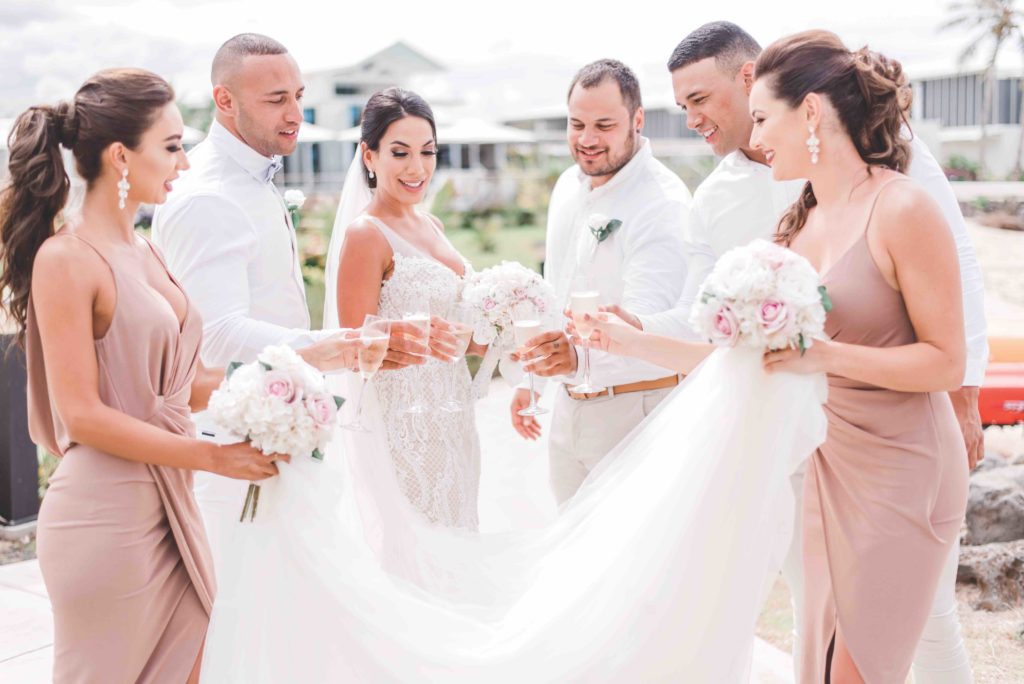 With 80 hotel rooms and a mix of two and three-bedroom self-contained villas, Taumeasina is the only island resort in Samoa with such a huge range of accommodation options. It's easy to see why so many choose this idyllic spot to spend their wedding day.
Choose from a barefoot beach wedding as the waves kiss the sand, or a customary chapel ceremony at the Vasa wedding venue located on the point with stunning ocean views, or tie the knot among the lush gardens. Taumeasina has a dedicated wedding co-ordinator who attends to every detail – it's the small things that count and always add to making the big day as seamless and fun as couples need it to be.
The perfect place to honeymoon, as well as your destination wedding venue, unwind after the big day and take the time to relax and enjoy some time with your loved ones. Taumeasina will help you indulge yourselves with breakfast in bed daily, couples' treatments at Fofo Spa & Sauna, private beaches, three world-class restaurants to dine at and share romantic sunset drinks each day of your holiday.
It's the full package, Samoa is fun, beautiful and filled with great places to eat, play and relax.  Everything needed to book and plan can be found at their website www.taumeasinaislandresortsamoa.com