Play
The wrecks of Truk Lagoon
72 years after Operation Hailstone, tranquility has returned to Truk Lagoon, where diving is therapy writes Mike Gerken who has been exploring, photographing and diving in the area for ten years.
July 14, 2016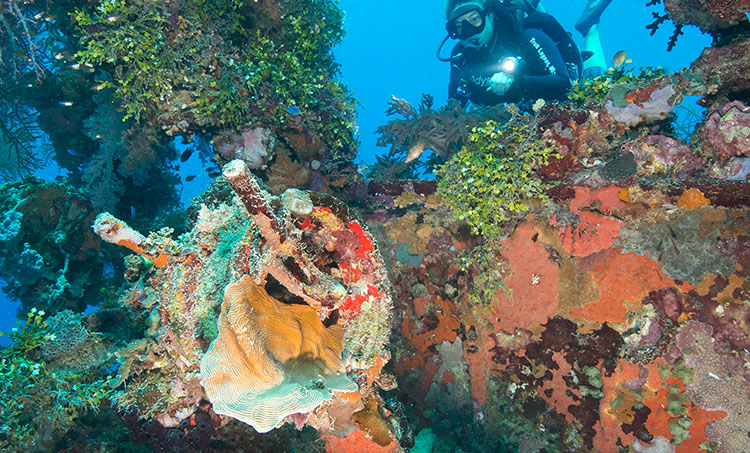 Pacific Island Living
July 14, 2016
72 years after Operation Hailstone, tranquility has returned to Truk Lagoon, where diving is therapy writes Mike Gerken who has been exploring, photographing and diving in the area for ten years.
I stare across the calm azure waters of the lagoon and imagine the WWII Japanese fleet before me; warships, merchant vessels are moving about with the purpose of waging war. Fighter planes and bombers zoom overhead on their way to and from the airfield. Tenders race to unload valuable cargo from the newly arrived vessels.
Then a moment later, I envision chaos reigning down from the air; US Navy planes strafe and bomb the ships lying helplessly at anchor. Planes are shot out of the sky and spiral down crashing into the water. The din of explosions, the smell of burning ships and dense smoke blackening the tropical sky pretends to foul all my senses at once. It's hard to fathom that this remote paradisal pacific destination was once the scene of immense carnage.
It was February 17, 1944 at the height of the war in the Pacific. The United States Navy launched a massive carrier-based air raid, codenamed 'Operation Hailstone', upon the Japanese Naval stronghold of Truk Lagoon in Micronesia. Hundreds of Japanese planes were destroyed, dozens of ships sunk and more than 2000 lives lost in what was the largest aircraft carrier based raid conducted in history.
Flash forward 72 years and tranquility has returned to the lagoon. Known today as the state of Chuuk within the Federated States of Micronesia, Truk Lagoon is a large atoll stretching a grand 150miles/240km in circumference. The diving conditions within this fringing reef are superb. Depths of the wrecks are deeper than most dive destinations but with the average water temperature at 82F/28C and visibility often exceeding 100 feet/30M the overall challenge of diving Truk is not that considerable. With that said, enthusiastic divers from around the world make the pilgrimage to this remote Pacific destination to see the famed Japanese wrecks of Truk Lagoon. Nowhere else in the world will you find a dive locale that offers dive sites as steeped in history and rich in marine life as you will in Chuuk.
An underwater museum
With the many artifacts and hidden stories to be found, the wrecks of Truk are veritable underwater museum. However, the admission here requires donning dive equipment and diving down to the bottom of the lagoon to enter. Nautical equipment, rows of portholes, thousands of beer bottles and large deck cannons are but a few of the artifacts to be seen in this museum. There is a duality to the wrecks in that they are more than just rusting historical relics. In addition, they are now home to thriving reef communities. Dozens of magnificent anemones a metre across, lush soft coral gardens, healthy populations of schooling jacks and barracuda as well as the presence of top predators such as sharks and tuna can be found on most of the wreck sites.
I first arrived in Truk Lagoon more than 10 years ago and have been working here in the dive industry for the better part of that time. Today, I'm the captain of the M/V Odyssey, one of Truk Lagoons liveaboard dive vessels where divers can live on board for a week at a time exploring the many wrecks. After logging more than a total of 2000 dives on nearly two-dozen different wrecks, I still haven't grown weary of them. Each day and every dive yields new secrets and amazing encounters with marine life. In addition to my role as captain, I'm a professional underwater photographer. I find the subject matter here to be endless. The wrecks themselves make wonderful backdrops for whatever happens to be in front of your lens.
Each dive site has its own personality. Some are deep and mysterious where others are shallow and covered with marine growth. Still others have great opportunities for experienced divers to penetrate deep inside the wrecks to explore and see first hand the inner workings of a World War II era merchant vessel.
The Shinkoku Maru is my therapy
The wreck of the Shinkoku Maru is one of the largest shipwrecks in the lagoon and is one of my favorites. At over 500 feet in length this fleet oiler has so much to offer beginner divers and experts alike. The forward section will leave most divers awestruck at the sheer density of coral growth covering everything. When I swim the length of her decks and admire the colors and numerous tropical fish species, life above water is on hold. There is no stress down here; no bills to worry about or traffic jams to cope with. The Shinkoku Maru is my therapy.
When I am in the need of an adrenaline rush, a penetration dive deep into the engine room of the Shinkoku is in order. The winding multi-level passages are tight and completely dark. The silt on the floor is thick and perfect fin kicks are required to prevent silt outs. The engine room dive is not for everyone but those whose skills are honed and nerves toughened will not soon forget this experience.
The wreck of the Fujikawa Maru is another premier dive sight in Truk Lagoon. This airplane transport ship was struck by a torpedo and went down before the shipment of Japanese Zeros it was carrying could be offloaded to the nearby airstrip. In WWII, the Zero was Japan's most formidable fighter plane but most were destroyed by wars end. To see even a piece of a Zero is rare which makes the dive down into the cargo hold of the Fujikawa to see nearly 10 of them that much more exciting. Each time I hover over the top of one of the planes, I ponder at how small the cockpit is and ask myself, "how did the pilot fit in to such a tiny plane"?
The Fujikawa is yet another wreck for amazing marine life encounters and interesting artifacts. If you're an avid wreck diver, it is likely you have already heard of the "Fuji" and logged a few dives on her. The water is generally very clear and the depth reasonable at around 20-25 metres deep. I often hover over the enormous 6-inch deck gun on the bow and watch the hive of activity all around me. Jacks and tuna chase bait fish to and fro while anemones gently sway back and forth in the surge. Red snappers eyeball me curiously and possibly wonder, "What is this noisy invader?"
Divers delve deeper
Most who travel from afar to Chuuk to explore the wrecks often feel by the end of a week of diving that they have merely scratched the surface of what there is to experience here. Once they get a taste of the diving, their appetite for it only grows. Many return year after year to delve deeper and stay longer. To dive every one of the 30-plus premier wreck sites is a daunting task, one that not even I, after more than eight years of diving here, have yet to do. If you're an avid diver who has a keen interest in WWII history and a lover of marine life, then the wrecks of Truk Lagoon is a must see dive experience. If they haven't beckoned to you yet, maybe they will now.
Mike Gerken is a professional underwater photojournalist as well as a dive boat captain who publishes his work through his company, Evolution Underwater Imaging LLC. Visit Mike's web site www.evolutiounderwater.com to see more of Mike's work.