Play
Top 10 Luxury Diving Experiences
Deborah Dickson-Smith dives deep to road test the best lux diving spots around the world and it's no surprise that many of them are in our backyard.
January 28, 2016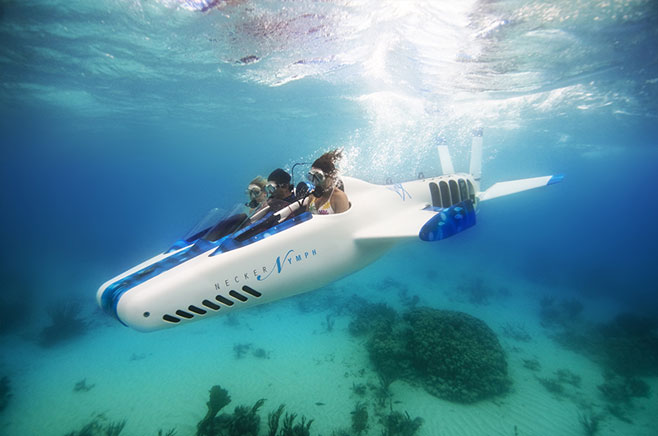 Pacific Island Living
January 28, 2016
Deborah Dickson-Smith dives deep to road test the best lux diving spots around the world and it's no surprise that many of them are in our backyard.
The concept of luxury travel has changed considerably over the last few years. Today's high-end travellers want more from their luxury holiday than 1000 thread Egyptian cotton sheets turned down with a Belgian chocolate each night.
They want to try something adventurous, go somewhere no one's ever been before and experience something life-changing.
Scuba diving ticks all these boxes, taking you to another world beneath the sea and, these days, with introductory courses that can be completed in one day, it's far more accessible.
Until recently though, despite diving being a relatively expensive activity to undertake, it hadn't entered the realms of luxury travel.
Until recently, to dive the world's most pristine and remote coral reefs, you would have to travel in groups of serious diving enthusiasts, perhaps on a 3-star 'live-aboard' dive boat or stay in 3-star accommodation on a remote beach somewhere with cheap beer (but probably no drinkable wine).
While today's high-end travellers want adventure, they still want to travel in style. They still want those Egyptian cotton sheets and Belgian chocolates, along with Michelin-starred dining experiences and three-hour spa treatments.
A growing number of luxury operators have seized this opportunity and are starting to expand their water sports offerings beyond wind surfing and jet-skis.
Here are 10 great luxury diving experiences to add to your bucket list.
1. Arajilla Resort & Spa, Lord Howe Island
World Heritage-listed Lord Howe Island is one of the most picturesque, photogenic islands in the world, surrounded by crystal clear water and the world's most southerly coral barrier reef.
On a typical dive you can expect to see a huge number of colourful reef fish, hawksbill and green sea turtles and the odd reef shark.
After a day's diving, you can treat any aching muscles with an Ayurvedic spa treatment at Arajilla's day spa, housed in a traditional wooden yurt before dining on healthy, gourmet food at Arajilla restaurant.
Arajilla offers adventure/eco packages which include three nights accommodation, all meals and a number of activities. Prices start at AU$2445.00. Arajilla.com.au
2. Vomo Island Resort, Fiji Islands
Vomo Island Resort is a luxury private island resort at the northern tip of the Mamanuca Islands in Fiji, with only 28 villas and two private residences.
The resort recently opened a new dive shop on the island, with brand new top of the range equipment and offers lapsed divers an innovative new reactivation program. Your kids are taken care of while you refresh your skills with a PADI refresher course with one of Vomo's instructors.
Rates start at AU$1200 per night inclusive of all meals and non-alcoholic beverages and packages are available that include seven nights for the price of five. Vomofiji.com
3. Wakatobi Dive Resort, Sulawesi, Indonesia
Wakatobi is a purpose-built dive resort located on a remote island off the coast of south Sulawesi. A charter flight will take you there from Denpasar in Bali where you are whisked through immigration with a VIP arrival service.
Being situated in the Coral Triangle, the island is surrounded by pristine coral reefs and incredible biodiversity. Your gear is carried to the dive boat each day by a porter service and at the end of each day, rinsed and dried by your valet.
Six night packages start at AU$3450 per person and include accommodation, all meals, unlimited diving and transfers from Denpasar. Wakatobi.com
4. Pulau Luxury Charters, Bali
Pulau Charters run day trips to Nusa Lembongan and Nusa Penida, across the Lombok Straights from Bali, and longer trips to remote and secluded bays around the Lombok islands.
Along with some gorgeous coral reefs, this region is famous for giant sunfish, or Mola Mola, and manta rays.
Their custom built 42ft dive and surf boat, the Rhino 1, is less than a year old and can carry up to 10 divers though usually groups are smaller.
Day trips are typically broken up by lunch at a nearby beach club on Nusa Lembongan and there's Champagne on ice waiting for you to finish your last dive of the day. Pulaugroup.com
5. Zeavola Resort, Phi Phi Island, Thailand
Zeavola offers a 'bare-foot' luxury experience at this five-star resort on Phi Phi Island, an easy hour's boat transfer from the Royal Phuket Marina.
Your air-conditioned beachfront bungalow comes complete with four-poster bed and a number of day beds to choose from.
Diving here is an intimate experience with usually only four to six divers on the rather luxurious dive boat and, being on Phi Phi you are closer to the dive sites, so guides can usually find a spot that's not populated by hordes of divers on a day trip from Phuket.
Room rates start at about AU$380.00 per night with a 15 per cent discount available on early bookings. Zeavola.com
6. Naladhu, Maldives
Anantara's Naladhu Resort has only 19 colonial style 'houses', each with a private swimming pool, and 13 ocean houses with a private sundeck extending over the Indian Ocean.
Each 'house' also comes with a 'house master' who'll turn down your bed each day, hand you a cool towel just when you need it most and even ensure your favourite CD is playing when you return to your room.
The dive centre offers up to four dives per day at a variety of locations, there being over 20 world-class dive sites within a half-hour radius of the island.
Room rates start at around AU$1475.00 per night with a minimum four-night stay. Naladhu.anantara.com
7. Laucala Island, Fiji Islands
Your all-inclusive stay at this exclusive island in the north-east of the Fiji archipelago now includes a ride in their DeepFlight Super Falcon submersible. The island resort is the proud owner of one of just three such submarines in the world.
As part of their all-inclusive rate, you can take a 45-minute underwater tour in this two-man sub, with your own personal pilot, enjoying 360-degree views of the pristine reef that surrounds the private island.
Your all-inclusive stay can also include a meander through their 18-hole golf course and a 90-minute holistic health treatment – free for all guests over the age of seven.
Rates start at around AU$5000 per night and include all meals, premium wines and Champagne. Laucala.com
8. Raja Ampat and West Papua with True North
These eight to 12-day cruises take you to the heart of the coral triangle, the world's most bio-diverse marine region, to explore West Papua's coastal areas, including Cenderawasih Bay, the setting for one of the world's unique animal encounters and the striking looking karst beehive islands of the Wayag Archipelago.
While there are several places in the world where divers can seek out whale shark encounters, in Cenderawasih Bay they linger longer and closer to the surface.
On board you'll be served gourmet meals, each inspired by the destination you are visiting and accompanied by a selection of fine wines.
Raja Ampat Explorer (West Papua) departs ex Darwin: 4 and 14 October 2015, prices from AU$19,995 per person. The Whale Sharks Of Cenderawasih Bay (West Papua) departs Ex Darwin: 24 and 31 October 2015, prices from AU$15,295 per person. Northstarcruises.com.au
9. Rowleys Shoals with True North
The Rowley Shoals is a group of three atoll-like coral reefs south of the Timor Sea about 260km west of Broome, on the edge of one of the widest continental shelves in the world.
This relatively undiscovered divers' paradise has been named one of the top ten dive destinations in the world and really, there's no better way to explore it than on a luxury small cruise ship.
Here you'll find about 600 species of fish, 200 varieties of coral and visibility in excess of 60 metres.
Coral Atoll Cruise (Rowley Shoals) departs Broome: 12, 17 and 22 September 2015. Prices from AU$5,295per person.
10. Necker Island, British Virgin Islands
Nothing screams luxury like your own private island, and for those of us who can't afford one of our own, Richard Branson kindly lets you lease his when he's not using it himself.
Dive guides and instructors are available for one-on-one treatment, and if you don't feel like using your fins to propel yourself, have a go on the Necker Nymph. This underwater 'aircraft' carries three people (including your pilot) and travels at speeds of up to six knots.
Rates start at $28,805 for a 7-night stay for two people and include all meals and drinks (even fine Champagne) and a team of 100 staff to take care of you. Neckerisland.Virgin.com
Deborah Dickson-Smith is a keen luxury diver and content director for Diveplanit.com, a travel website that aims to help recreational divers plan their own diving holidays.