Play
Trekking the 'canal – Lambi to Tangarare
Experiencing the 'real' Solomons for Fiona Marston was worth a two-day trek through some of the country's most beautiful and rugged bush where she found welcoming people and simple pleasures.
July 14, 2016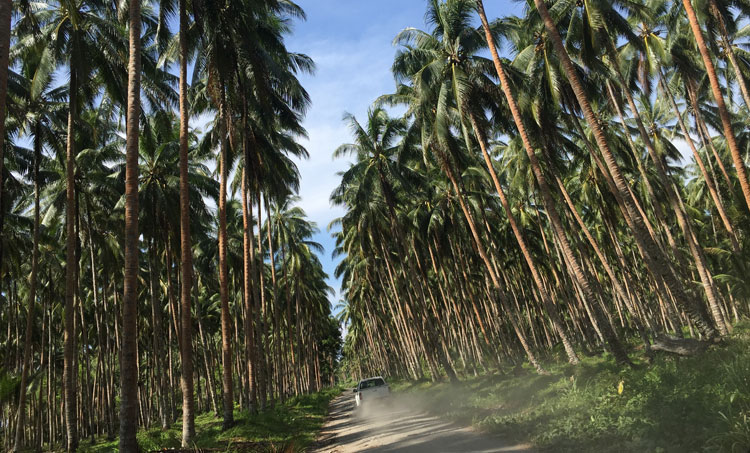 Pacific Island Living
July 14, 2016
Experiencing the 'real' Solomons for Fiona Marston was worth a two-day trek through some of the country's most beautiful and rugged bush where she found welcoming people and simple pleasures.
The Solomon Islands is fast gaining a reputation for being a trekker's dream destination.
With a group of six others in tow and a local guide, I recently completed a two day trek from Lambi to Tangarare on the main island of Guadalcanal, Solomon Islands.
We left the capital, Honiara, early on Saturday morning in a convoy of 4WDs and stopped to pick up our guide Stanley on the way. We drove west as far as the road would take us, to a village called Lambi. Upon our arrival there, we hopped out of the car, covered ourselves in sunscreen, hydrated, put on our backpacks and started walking. Our backpacks held everything that we could possibly need for the next two days, including sufficient drinking water to last most of the day, and all the meals we would need on the trek.
The trek started with a steep hill ascent, which certainly got the heart rate going, but at the top we faced a shady clamber down through palms and a village cocoa plantation. Over the next nine hours we trekked though coconut groves, more cocoa plantations, beaches, forests, small remote villages and around headlands stepping on rocks and holding onto rampant overgrown vines for stability.
At times on the journey we crossed through freshwater creeks with our backpacks held overhead and through river inlets where the freshwater meets the sea. Through one particular crossing which a resident crocodile is known to inhabit, we took a short boat trip across the river mouth to avoid any potential ankle biting.
We stopped frequently along the way to refresh, rest our legs and pay a small fee to local village children with bush knives to scale coconut palms for freshly cut drinking coconuts. We also bought freshly harvested sweet pineapples from the village women, and topped up our drink bottles from local springs. We packed water sanitation tablets just to be safe and dissolved these in our water bottles so we continually had enough water to keep us hydrated on the hike.
Day one ended after nearly 10 hours on foot, when we took refuge on the balcony of a local primary school verandah at Matananugu. After a quick swim in the ocean, we unrolled our yoga mats and mosquito nets and set up camp for the night. Dinner consisted of local tinned SolTuna Chilli Taiyo and navy biscuits, some bananas from the village and more freshly cut coconuts, before turning in exhausted for an early night under the stars. The night was surprisingly cool for the Solomons, so packing an extra towel or small sheet is recommended.
We woke early with the sun peaking over the horizon and the sounds of local piglets grunting under the slats of the verandah. A quick splash of fresh water, the donation of our mosquito nets to the villagers and a small meal from our packs, we were on our way again, all set for another six hours of walking.
Day two featured more coconut groves, cocoa plantations, many small communities and smiling local children, so excited to see rare expatriate visitors trekking through their villages. These villages are so remote from the capital that while they do have access to fresh water, there is no access to electricity (bar the odd solar panel), indoor plumbing or the basic amenities that us trekkers were used to. Yet the children are happy and content, the villages are clean and tidy and the residents have smiles on their faces. Sometimes the simple things in life can give us the most pleasure.
When we finally reached the township of Tangarare, we walked through the large community past spectacular churches, a large boarding school and a new nursing clinic, as far as the dirt road would take us. After a quick rest and refreshment, we removed our packs and jumped onto our guide's banana boat to take us on the two hour boat ride back to Lambi.
We were lucky to have glassy flat seas for the trip back, where we sat, put up our weary feet and viewed the stunning coastline over which we had just walked for the last two days. Seeing the sheer distance from the boat was quite impressive and really brought home just how far we had come.
We hopped out of the boat at Lambi, where I donated my worn out old runners to the boat driver and we piled back into the 4WDs for the drive back to Honiara. The drive back was full of contemplation, reflection and recollection of our experiences from the last two days. It has certainly been a highlight of my time in the Solomons and something I would definitely do again.
Life around the weather coast of Guadalcanal is simple, remote and beautiful and features some of the most spectacular and pristine beaches I've seen in the Solomons. If you are into trekking and have a weekend spare, I highly recommend doing the Lambi to Tangarare trek. You will see real Solomon Islands life, away from the capital, where children walk to their schools three villages away, where locals grow and live from their own produce and where life is the simplest and happiest I have encountered. Children play in dugout canoes, with toy cars made from flotsam found on their beach and make up simple games under the shade of the coconut palms. You will see rainforest, bush, beaches, spectacular coral gardens, surf breaks, rivers and creeks, groves and plantations and real villages – the full spectrum of natural life in the Solomons.
Our guide Stanley will happily accompany you on this trek for a small fee, as well as many other hikes and treks ranging anywhere from one day to a week. Stanley also guides the highly popular cross Guadalcanal trek from the weather coast back to Honiara. he can be contacted on +677 742 9305 or contact Solomon Islands Visitors Bureau at www.visitsolomons.com.sb
Step outside your comfort zone and see what life is really like in the Solomons, simple, happy and beautiful.